French YouTuber (Master List for Language Students) [2021]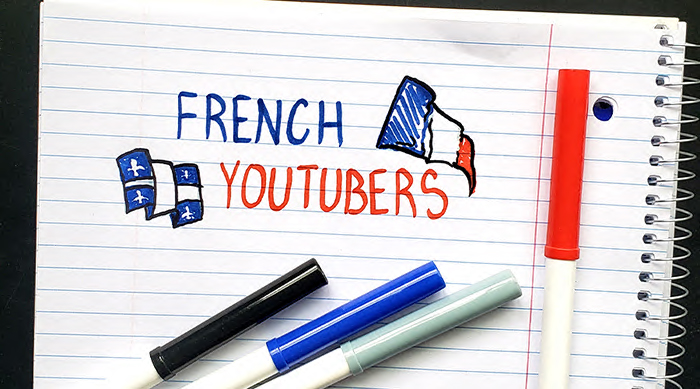 As a polyglot who is obsessed with YouTube, I wanted to make sure my list of French YouTubers was the best on the internet. Here's what you can expect in this article:
All of the French YouTubers mentioned are hand-picked by me, a YouTube junkie (and not some algorithm).
The channels come from a ton of different genres, from beauty and DIY to history and news.
It includes a mix of well-established French vloggers and some lesser-known but amazing ones.
The channels are all in the French language, but feature creators from a ton of different countries and regions.
This list is free of sponsored content, so no one paid to be on it.
I'm not only a YouTube junkie, but a French student of 3 years. So I've spent that time not only collecting some amazing French YouTuber channels, but weeding out any French YouTubers that make sub-par content.
I regularly update this list since I myself watch these French YouTubers nearly every day. But if you have any you think I should consider adding or know of any updates on these French YouTuber channels, please leave a comment below so I can check it out!
Why watching French YouTuber Channels helps you learn French
You can memorize vocabulary words through courses, or use worksheets for practicing grammar.
But doesn't everyone talk about how the best way to learn is with immersion?
So why not do language immersion at home every day!
For me, French YouTube, French music, and French books have been critical for my language learning process.
And I consider myself lucky--in the past two years of learning French I've been able to spend a total of 3 months between Quebec and France visiting with friends who I could speak French with. Very few people have that chance.
But even being in French-speaking countries hasn't helped me learn the language as much as French YouTube has. (Really.)
I've done recipes in French, switched my music to French, done yoga in French, watched the news in French… all thanks to the following French YouTuber channels.
And through all of that, I'm not only having fun but also learning the language.
I might learn a new word with my teacher in class and then see it a few days later in a documentary. I might hear a fun piece of slang on a channel, and then try it out with my teacher to practice it.
Especially when I was struggling to understand spoken French, these YouTube accounts were key in learning French for me.
When you find quality content at your level which inspires you to learn and grow, learning French (or any language) will become easier and easier.
How my favorite French YouTuber has helped me maintain my French
In the past 2 years of learning French, I've really only actively studied the language for maybe a total of 8 months during that time.
Like many multilingual hobbyists, I study and maintain a few languages at once. But since there are only so many hours in the day, each language gets their own "season". For me, my French season is late spring and early summer before trips to visit friends in Quebec or France during the warmest months of the year.
But what do I do with my French the months I'm not studying it? How do I keep from losing it?
Honestly: I watch a heck of a lot of French YouTube channels.
Normally 1-2hrs in my morning I dedicate towards studying the language(s) I'm trying to improve. Then, during lunch or dinner breaks from work, I throw on some French YouTube while I eat.
The reason I prefer French YouTubers over Netflix or films is because they offer bite-sized content that is 100% authentic. I can pick a video that's 5, 10, or 15min long and enjoy turning off my brain while I watch something fun. Or, before I go to bed, I can pick a free longer-sized documentary of 30-60min and zone out while still maintaining my French.
At the end of this article, I'll dig into who my favorite French YouTuber is, but they're a YouTuber I've been following for a number of years. I love watching their weekly content on YouTube, but the fact that they're a professional content creator means I get bonus content on Instagram that I can interact with.
I can practice my French listening, sure, with French YouTube channels. But then if I head over to that content creator's Instagram I can read captions to practice that part of my language, or even chat with people in the comments there to practice my writing. All without any real effort.
So like I said in the introduction, this list of French YouTubers has been made with an insane amount of love because it's the content that I watch every single day. I hope you love these channels as much as I do!
French YouTubers: For Lower-Level Language Students
This first section is for French students who have lower comprehension abilities. If understanding spoken French is hard for you I highly highly recommend these three French YouTube channels.
InnerFrench is an amazing French YouTube channel where the host, Hugo Cotton answers questions about French language learning or French culture in slow, clear French. If he uses a fun idiom that you might not understand (think of something like "hit the nail on the head" and how hard that could be to understand), he then explains it in French.
And while Hugo is an awesome French YouTuber (and the perfect way to kick off this list), I recommend his podcast InnerFrench even more. The topics he covers are so insanely interesting and his speech so slow and clear that if you have a decent vocabulary but still cannot understand the French, within a few weeks of binging his channel and podcast you'll likely find your problem solved.
The Easy Languages series is one of my all-time-favorite language learning tools and for sure the top French Youtubers for students. There are French YouTube videos available at every level in over a dozen languages, where the hosts speak with natives slowly and clearly about a number of topics. Each video is about 5-8 minutes long and features REAL French speakers but with both French and English subtitles. The content they've built up there is huge, so you should be able to keep yourself entertained for quite a while!
Their YouTube videos are also awesome content for teachers who can follow up virtually any French vocabulary lesson with some real-life examples.
I recommended WordPie as one of the best ways to learn through French music on another post, but they deserve a mention here. When I used WordPie before my first language immersion trip to Mexico, my teachers were
astounded
by how huge my vocabulary was even though my self-taught grammar was still limited.
I suggest using WordPie like this:
Create a blank YouTube playlist entitled "French songs" or something like that
Then add your first 3 WordPie songs
Play that playlist on repeat in the background or when you're doing errands, alternating between watching the lyrics on the screen and just listening
Do your best to sing along
In a week or so when you find yourself able to totally sing-along, add another 3 songs to the playlist to the top of the playlist so you always hear them first
Sometimes play just those three songs, sometimes play the songs on repeat
There are 40 songs on their French YouTube channel, and every video/song has about 100 words. That's 4000 words learned, basically effortlessly.
Follow their French YouTube channel because they update with additional songs every once in a while and have been active for years
French YouTubers: News Channels
The news is stressful, but the quality of French reporting is amazing. Even though I live in the US I've long ago switched all of my news into French (with the occasional Spanish podcasts thrown in) and haven't regretted it for one second. If you're going to watch the news, why not watch it on French YouTube?
I'll also mention though, for the most part, I try to feature channels made by an individual and independent French YouTuber who isn't a big corporation. With news, that's largely unavoidable. But if you want more independent and classic-YouTube material, skip down to the next section.
The French YouTube Channel
Le Monde
is owned by the renowned French newspaper with the same name. Although just a year ago all of their videos were hosted (and accessible) only on their site, they now offer their high-budget, high-quality videos directly on YouTube for subscribers to access directly. While they only post a few videos a week, the topics range from long-term investigations about
the financing of the Rwandan Genocide
 to
explanations about the fame of Egyptian pharos
 to
quality journalism about climate change action
. They are by far my go-to French YouTube Channel for international news whenever they update.
Radio-Canada is a francophone national public news outlet that updates several times a day with small 2-3min segments. Honestly, the amount they publish might be overwhelming if you're like me and regularly check your YouTube subscription page for something to watch. But, since Le Monde doesn't offer fast journalism like other 24hr news networks, Radio-Canada is a great way to fill in the gaps.
Rad is an arm of Radio-Canada aimed at younger francophones which covers the same big news stories but with a more personal approach. Some of their YouTube videos about the covid19 crisis, for example, have
taught urban gardening
,
shown cool street art
, and even
shown the news production process during the crisis
. They're honestly just a super fun time.
ONFR+
is a news channel for Franco-Ontarians (aka, Canadian French speakers who live in an English-dominated providence of the bilingual country). It has a distinctive local-news feel, but diverse exposure to accents which I love. I think it's also important to highlight French YouTube channels which aren't based in a particularly French-heavy part of the world since French is endangered in states like Louisiana and Maine, as well as
"losing ground" in parts of Canada
.
Les Dessous des Cartes is the YouTube channel of
the French and German public broadcasting company ARTE
. It offers regularly updated news from around the world, like Le Monde, for high-quality journalism. Unlike Le Monde, however, their niche is really expert interviews versus explanations videos--so the two together make for a nice mix.
I'll also mention, this specific YouTube channel isn't as good as their main French YouTube channel ARTE (which you can see below in the YouTuber Curiosities and Documentaries section of this same article). Still, it's a nice place to listen to experts speak on important topics.
French YouTubers: Food
Unpopular opinion: all of my favorite French YouTuber channels are actually French Canadian YouTube channels!
If you have some opinions for great French YouTubers from Europe, send me a line in the comments for consideration. But overall, I've found these three French Canadian channels to be super fun and super accessible. Plus: what could be better than a little accent variation?
Carl got his start on
Meilleur Pâtissier
, a baking reality show from France adapted from The Great British Bake-Off where the Quebecois baker came in second place on season 4.
The professional baker then started his career as a French YouTuber by posting fun and colorful baking videos on his channel. But after he and his husband, French Youtuber Huby, moved houses a few years ago he had a few improvised "challenge" videos. His channel exploded in popularity, and since then has primarily done cooking and baking challenges. His channel is perfect for anyone who wants to just watch someone talented goof around in the kitchen while flexing his culinary skills, and often features his adorable pets.
La petite bette is the only French YouTuber mom to make it on this list! Her recipes are original takes on comfort food, French culinary classics, and tons of fun deserts--served with plenty of good humor. One of my favorite things about her channel is that she exposes herself whenever she (or her husband) make an error while cooking so you can see right with them. As someone (me) who is often intimidated by complex recipes (me), it's really nice to see a cooking YouTuber be imperfect. She also has a selection of videos about her family which I haven't gotten too into, but if you have kids you'll likely really like how she and her husband tell stories.
Gordon Ramsey's hardest recipe
?
2013 Galaxy-print cake pops
?
Homemade boba tea
? Cooking a Christmas tree? Rosalie's videos are absolutely click-bate fun where the Quebecois chef drinks wine and experiments with fun new things. Her monthly videos have a distinct feel of just hanging around your friend in her kitchen, and I seriously suggest grabbing your own glass of wine when you watch along with her channel.
At the time of this writing, Rosalie's channel isn't updating but her Instagram still is. Like many higher-budget French YouTuber accounts, I suspect it's because of the current because her film crew can't get in because of quarantine. (As one of the top French Youtubers in any country, yes she has a camera crew.) However, if it's not updated within a few months when this post is revised it'll be removed. (Until then, check out her huge back-log of videos.)
French YouTuber: Beauty & Lifestyle
This section is kind of my "miscellaneous things that are pretty and fun" section. Every French YouTuber here has posted videos about makeup and skincare, but some do fun challenges and others do personal vlogs. Some explore daily life in Quebec, and some explore Canadian culture. And some are maximalists while some are minimalist.
I've added a few tags to each of their accounts since they're extremely eclectic, but if you watch each video I've posted you'll get a good sample of what their channel is about.
Channel tags:
challenges, product reviews, food, pets
If I could give Huby a trophy I would. Not only is he Carl's YouTuber husband, but the only French YouTuber on this list who's actually German and speaks French as a second language! If you're a French student like I am, he is absolutely language inspo. He literally introduces his channel as a place "where I do what I want", but every video is high-energy and semi-ridiculous. And while he doesn't really fall into the category of French YouTuber beauty content creator, he's a male model so his product reviews come with a lot of experience.
Channel tags:
challenges, pranks, travel, YouTube couple, pets, LGBT
I cannot believe one of my French YouTube channels is a YouTube couple, but I'll forgive myself because these two are tremendously fun. The third channel of Carl and Isaac Huby features their travel, pets, pranks, and fun. It's rarely updated--only when they have something to actually share--which is kind of nice since weekly YouTube couples aren't most people's cup of tea. However, their updates are fantastic and it's a nice treat to see this channel pop up on my normal feed every once in a while.
Channel tags: 
makeup, fashion, hauls, interior design
Hosts Marianne and Gabrielle give themselves fun projects and makeovers in their weekly videos, all in the flavor of "girly things" (which is an awesome flavor). From painting along to Bob Ross during an apartment makeover to an ugly thrift shop challenge to testing TikTok hacks, they're perfect for anyone looking for French YouTuber beauty channels but fun enough for anyone who normally isn't into that.
Channel tags: 
minimalism, food, fashion, frugal living
In stark comparison with Huby and Carl's huge amount of product reviews, we have minimalist French YouTuber channel Vivre Avec Moins. This self-proclaimed "former shopaholic" turned her life around to live a purely minimalist life, and takes you along with her. One thing I really like is that a lot of her videos are practical advice from her 5 years of living frugally, but she also doesn't shy away from regrets or stressors. Her channel is a really fun take on French YouTuber beauty trends through the lens of someone who used to be a beauty influencer but totally switched tracks for a different lifestyle.
Channel tags:
Canadian culture, personal vlog, teacher life, frugal living
I found Audrey originally through her videos about Quebec, and that's still largely what I enjoy about her channel. However, if you like personal vloggers who chat about their daily life in fun ways, her voice is really nice and her presence super soothing.
Channel tags:
Francophone culture, personal vlog
Like Audrey D's channel, I also found CAM's channel through Quebecois culture and language content. But like other YouTubers, she also has a number of personal vlogs where she talks about her opinions and experiences. The difference is that CAM is a French ex-pat living in Quebec and doesn't shy away from comparing the two modes de la vie! If you're interested more in European French but also want to get a taste of Quebecois life, you'll find her content super interesting.
Channel tags:
beauty, food, YouTuber collaborations, long-form interviews
Different channel, different Cam! And honestly, this French YouTuber has it figured out. Her style has an incredible range of high-quality content. While with every YouTuber on this list I've tried to give you a good first-impression video, you can't really do that with Cam. I suggest checking out her playlist on long-form interviews about pressing topics, her beauty playlist, and her collabs with other YouTubers playlist just to get a taste. But there are a lot, lot more to her channel.
French YouTubers: Business and Growth
These might not be everyone's cup of tea. Didn't we start learning French for the food, culture, and travels? Well, if you're learning or relearning French, maintenance is important. And for me, since I have a career totally outside of languages, it's also important that I maintain my professional knowledge too! For me, watching French Youtube channels about business is like double-dipping so I can passively study two subjects at once.
NOTE WITH 5/30/20 UPDATE – This section previously had additional YouTubers listed who now have inactive accounts. If you have any self-help, business, or marketing YouTubers you want to add to the list, please let me know!
Stratege Marketing
puts out semi-monthly animated videos about really fun marketing topics. Some of the most interesting takes have been
the marketing of Greta
,
the marketing of a crisis
, and
mobile sites vs apps
. I wish they updated their channel more often, but the content quality is still great.
French YouTubers: Yoga, Meditation, and Wellness
Mike's meditation channel is by far my favorite in any language. Each of his 55 and counting videos has a clear purpose: meditation to sleep, to relax your muscles, to calm yourself down. They're normally about 15-30min long, with some as long as 90min and some as short as 8min. (He even has one which is 8hrs of positive affirmations.) French is the most relaxing language I speak or study, so to me, it's really natural to do any meditation in the language.
Yes, the magazine ELLE. But…. in French. And, doing yoga? If you look at all their playlists you might think you hit an absolute goldmine of quality French YouTube content, but sadly not. A lot of their videos are in English with French subtitles (a personal pet peeve of mine) which is why they didn't make it on
the beauty and lifestyle section above
. But their meditation and yoga are great so I have them saved to my library for occasional viewing. (But no, I'm not subscribed to them.)
Virginia positively 
radiates 
yoga mom energy. And while I don't subscribe to this French YouTuber myself, I have a ton of her videos saved in my own yoga playlists and really really like her positive-relaxed-but-probably-type-A energy.
French YouTubers: Curiosities and Documentaries
Jamy was one of the beloved hosts of the popular 90's French Show
C'est pas sorcier (English: it's not rocket science) which you can see archived on this YouTube channel
. Imagine myth busters but silly and with fun props. Keeping in that theme of curious investigations and explanations of the every-day, on Jamy's channel was launched during the covid confinement where he shared what he called "un nouveau savoir". Filmed in his garden, Jamy talks about books he loves, why cats don't like water, how to use masks correctly, and natural phenomena.
While this channel was launched during confinement, at the time of this update (21 July) French rules are easing up but Jamy is still updating. Hopefully, he'll continue to do so far into the future! If not, I'll remove this listing during the next update.
L'Histoire nous le dira is my favorite history YouTube channel in any language!
The host, Laurent Turcot, is a history professor at l'Université du Québec à Trois-Rivières, Canada and you can find his interviews and TED Talks throughout YouTube. He delivers every story like he's talking to friends over a drink about the best action movie he's ever seen, and he must be protected at all costs.
We mentioned the news YouTube channel of ARTE above, but here's my favorite channel by the organization. Their mini-documentaries, from 6min-2hrs long, are super fun explorations into any topic you can imagine. Many of their videos are filmed in German with French dubs and can be found in additional languages on their website.
Some of the most addictive videos by this French YouTube channel are a political investigation into three cases of Germany babies born without arms, the fight against anti-vaxxers, and factory farming in Europe.
While this French YouTube channel is no longer active, it has a cache of nearly 200 awesome feature videos about all sorts of awesome things. Its playlists aren't totally organized, but I highly recommend starting with everything from
Mon week-end
.
(I normally don't add inactive channels to my YouTube blog lists, but this one is so good it's worth adding.)
This French YouTube channel is exactly what it sounds like: a channel full of questions about history, and their answers. While the narration and visual styles aren't quite as exciting as those of L'Histoire nous le dire, this channel tackles much larger events and broader topics than the niche stories of the other channel. And, if you're a history junky like me, they're still fun and bite-sized.
Nota Bene is the weirdest and nichiest French YouTube channels that has explanations/documentaries on this list. I hope you enjoy this story about Hitler's alligator because, for me personally, getting addicted to weird YouTube videos and falling down the rabbit hole is an
ideal
way to improve a language.
C'est une autre histoire is an animated series of mini-stories (and herstories) of all sorts of things with a particularly feminine voice. Other videos on this channel include butts, savage babies, and some non-animated stories like sexism in archeology,
Is your history preferences less about interesting tales and more about
weaponry
,
secret treasures
, and
cavemen
? Pull up a seat and fall down the YouTube rabbit hole.
French YouTubers: Comedy
Paul Taylor is fricking hilarious. A French tutor several years ago sent me the above clip to his stand-up comedy, and I was hooked. While he's technically British, Paul grew up speaking both French and English in different parts of his life. The strange linguistic circumstances of his childhood have led to an incredible sense of humor--and plenty of horrifying stories. I highly recommend his bilingual comedy shows and hope one day to catch one life.
Please note, the above clip isn't from his own channel but you can click his name in the title above or right here to go directly to his channel. I just wanted to show you this clip since it was my introduction to him, even though it's hosted by a different French Youtube Channel.
(In the middle of writing this article, his was the only video that I actually stopped and rewatched after posting it here, even though I've seen it at least 10 times before.)
Denyzee was the first French YouTuber I ever found! I found her while hunting through additional accent videos after Paul Taylor's (above). Her original videos were really vlog-styled in her own filming room just talking, but are now higher budget travel, challenge, or makeover videos. Denzyee calls her channel a comedy channel in some of her videos so it's here, but she also has a lot in common with lifestyle bloggers. She's also friends with Huby and Carl, and their collab videos are absolutely fun.
French YouTubers: Tech
While I don't normally watch tech channels (so jayaddict is the only one on here) this one
est tellement top
. On top of reviews and unboxing, jayaddict also has some silly videos. I politely turn your attention to
magic kits
,
making money as an UberEats driver
, and
Wish gadget tests
.
Top French YouTubers of Any Genre
In this section, I'll simply list the 5 French YouTuber channels with the biggest follower listing. I don't personally follow any of these accounts. But French trends have been massively affected some of these French YouTubers, so I wanted to give you a list. (And after this, the reveal of my personal favorite French YouTuber!)
Subscriber number reflects the date of the most recent update of this post.
My Personal Favorite French YouTuber
So who is my all-time favorite French YouTuber?
I check daily for updates from Le Monde (since they can be on random days) with my morning coffee.
I've used the stories from L'Histoire nous le dira as citations when updating Wikipedia articles.
But ultimately, my all-time French YouTuber is Carl from Carl is Cooking.
When maintaining a language I don't normally have time to touch it until 9pm or later. I love how much slang is in his and Huby's videos, and I've learned a lot of fun phrases from them. I just love how positive and silly their energy is. And honestly, I just want to turn my brain off sometimes.
Whoever your favorite French YouTuber turns out to be, I want to encourage you to pick a channel you really love and not one you think you should love. If you fall down their rabbit hole it'll motivate you to learn and maintain your French, and it'll make the whole process a lot easier.
Other Great French Resources
I love using a huge variety of free resources when I learn a language.
I'm currently working with other polyglots and a bunch of language professors to create huge lists of awesome content for every level in French. If you liked this article and want to hear more, subscribe to our podcast, follow us on YouTube, or follow my personal Instagram account for updates once that project is finished.