25 Portuguese YouTubers from Around the World (2020)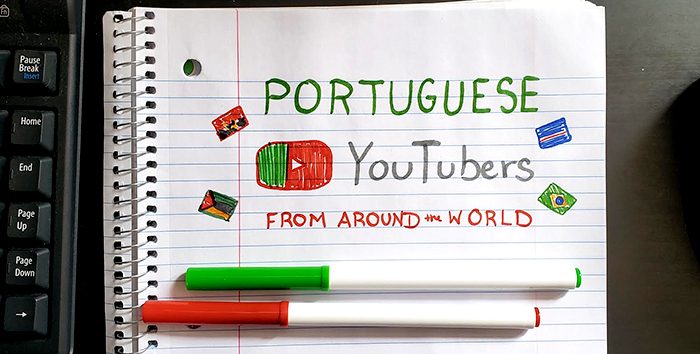 Portuguese YouTubers are the real reason my Portuguese is as good as it is.
I studied Portuguese for about 6 months back in 2019 with the goal of becoming fluent for an upcoming trip to Brazil. But when COVID hit and my life dramatically changed, I had to put my Portuguese into "maintenance mode"--that little polyglot trick where you keep up your language skills without too much time or effort.
Since then, I haven't had many opportunities to speak Portuguese and try to keep my classes in the language down to a minimum.
So how have I kept myself from forgetting the language entirely?
Portuguese YouTube channels.
(Yes, really.)
In this article, you'll learn a few things:
How to use Portuguese YouTubers to help you create at-home language immersion at any level
My favorite polyglot tips for using Portuguese YouTube channels to maintain and improve your language
How to diversify your Portuguese by listening to international dialects through DIY projects, music, the news, and more
START HERE: How To Use Portuguese YouTube to Learn the Language
YouTube has been my absolute all-time favorite way to maintain the languages I'm learning--and Portuguese YouTubers have been my daily go-to for at-home Portuguese language immersion.
Here are my absolute favorite ways to use YouTube for language learning:
Get your daily news in a target language. There are endlessly amazing Portuguese YouTuber channels and podcasts by international news sources. If consuming your news in your native language is part of your daily flow, switching over to a target language will help you live a bit more of your life in Portuguese immersion every day.
Find mindlessly fun content for when you're tired. Sometimes we don't want to study. Find fun content to consume in Portuguese. Netflix is an obvious go-to for everyone, but even at my conversational level of Portuguese I still find it exhausting to have to sit for a full 30-60min episode of a show and work hard to understand. That's why YouTubers are generally my go-to when I'm exhausted after work and don't want to have to think about anything too real (but still want to get in some language time).
Mix in some YouTube Portuguese teacher accounts (but don't rely on them too much). Find a Portuguese teacher on YouTube who will help you understand slang, grammar, and everything in between. Especially if you love the host, seeing them on your subscribe page will be a fun treat. (Just remember that YouTube is no replacement for actual language study or classes. These videos are just icing on the cake of good study habits.)
Build a habit with an additional daily activity. Find a time where you'll commit to interacting with Portuguese every day. For me, I spend my mornings taking in news through various languages and evenings watching fun videos. I have those time slots built into my daily routine, so it's totally effortless. Then you can set time aside for real study on days where you have a few extra minutes and complete your week of awesome Portuguese immersion.
Now, here are a few more things that will help you better navigate this list to help you find your new favorite Portuguese YouTubers!
Country Key:
🇵🇹 Portugal
🇧🇷 Brazil / Brasil
🇨🇻 Cape Verde / Cabo Verge
🇦🇴 Angola
🇲🇿 Mozambique
Difficulty Key:
⭐ ⬜ ⬜ ⬜ ⬜ For Beginner Students
Channel is primarily in English and explains the Portuguese language to students
⭐ ⭐ ⬜ ⬜ ⬜ For Students
Videos made for Portuguese students who are practicing their ability to understand the language
⭐ ⭐ ⭐ ⬜ ⬜ Clear and comprehensive
Videos made for natives, but all concepts are explained clearly with visual aids (such as graphics or illustrations) and should be understood for intermediate students
⭐ ⭐ ⭐ ⭐ ⬜ Somewhat difficult
Videos are made for natives but might have concepts, speed, or audio quality that make them more difficult for students to understand
⭐ ⭐ ⭐ ⭐ ⭐  Very difficult
Videos include thick dialects, a lot of slang, or very quick talking between natives. Suited for upper-intermediate or advanced Portuguese students.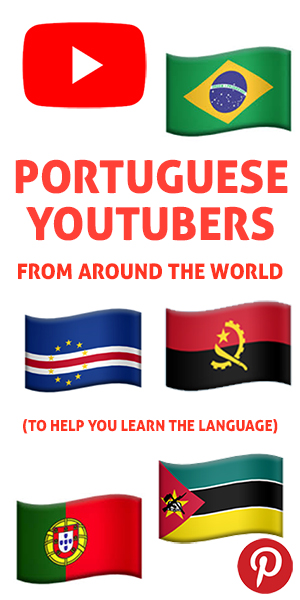 A note about subtitles
Ever since YouTube changed their automatic subtitles policy, many pages lost their ability to add community subtitles. The subtitles listed here reflect the subtitles available at the time of this writing, but because of policy changes everything is subject to changing again soon.
I'll come back to check up on this blog post every few month, but if you find that the subtitles listed here are incorrect, feel free to let me know in the comments so I can come back and update the article.
And now that that's all out of the way, let's jump into this list!
Portuguese YouTubers for Learning Portuguese
Most of this list focuses on native-level content so you can enjoy your listening immersion. But for lower-level students (and the rest of us who could still use some help), the first Portuguese YouTubers on this list are teachers and schools who make videos to help you learn the language!
I obviously suggest these YouTube channels for Portuguese students who are just starting off, but even if you're intermediate or advanced you'll find plenty of new material here.
Country: 🇵🇹 Difficulty: ⭐ ⬜ ⬜ ⬜ ⬜ Subtitles: Depends on video
Channel Tags: language learning
Portuguese Lab is probably the best European Portuguese YouTube channel for beginners. With well over 100 videos, they have a ton of listening exercises; politeness tips; useful phrases in a variety of situations; and of course some grammar.
These videos are great mini-immersions for new students, so I highly recommend listening to them in place of Netflix or native-level content if you're a beginners.
Country: 🇧🇷 Difficulty: ⭐ ⬜ ⬜ ⬜ ⬜ Subtitles: Human-generated in English
Channel Tags: language learning
Rusty is one of the only Portuguese language YouTubers who still privately tutors students. (She was actually my teacher when I was learning, and I found her through YouTube!) Her videos on pronunciation are my favorite of any Brazilian YouTuber, and her super-calming energy always makes me feel totally capable of mastering irregular verbs or learning new phrases.
Country: 🇵🇹 Difficulty: ⭐ ⬜ ⬜ ⬜ ⬜ Subtitles: Auto-generated English (not always accurate in bilingual videos)
Channel Tags: language learning
Talk the Streets is another fun language channel where it's host, British Portuguese-expert Liz, shares grammar and vocabulary with fun and optimism. She also has a few videos with fun tips (like how to learn Portuguese using TV, plus her favorite apps) that I suggest checking out.
Country: 🇧🇷 Difficulty: ⭐ ⬜ ⬜ ⬜ ⬜ Subtitles: English and Portuguese (human-generated and built into videos)
Channel Tags: Language learning
Virginie is one of the best known Brasilian YouTubers who teaches the language. She takes students through grammar, immersion, stories, and culture in her massive library of videos. I also suggest following her on Instagram where she's constantly doing live videos and posting great content.
Country: 🇵🇹🇧🇷 Difficulty: ⭐ ⭐ ⬜ ⬜ ⬜ Subtitles: English and Portuguese (human-generated and built into videos)
Channel Tags: language learning
There are two big differences between Easy Languages and the rest of the Portuguese YouTube channels on this part of the list. First off, Easy Languages doesn't only work with Portuguese--they have playlists in dozens of languages from German and Welsh to Mongolian and Swahili. Second, they don't teach or explain grammar: instead, they use interesting videos about daily life and culture as examples for grammar and vocabulary you might already be learning
Big shout out to my friend Ingrid from Second Half Travels for recommending me this channel when I first started learning Portuguese! (I've used them for all of my languages ever since.
(And make sure you check out playlists for both Easy (European) Portuguese by clicking here and Easy Brazilian Portuguese by clicking here!)
Portuguese YouTubers Who Teach You About the World
Most of the language learners I know have a ton of other hobbies and passions! If you want to learn more about the world without neglecting your language skills, I suggest letting these Portuguese YouTubers teach you about science, history, psychology, and everything in between.
Country: 🇧🇷 Difficulty: ⭐ ⭐ ⭐ ⬜ ⬜ Subtitles: Auto-generated Portuguese
Channel Tags: science, challenges
Through fun experiments reminiscent of popular social media "challenges", Manual do Mundo teachers viewers about the science that makes our daily existence possible.
This is the most hands-on of the channels in this section, and because of that can often be the easiest to follow because of how much context each scene is given.
Country: 🇧🇷 Difficulty: ⭐ ⭐ ⭐ ⬜ ⬜ Subtitles: auto-generated Portuguese
Channel Tags: studytube, history, psychology
Former psychology student Débora started her channel to document her undergrad study techniques, lessons, note-taking ideas, and educational interests. After graduating and (and hitting over 2 million followers), she's continued to maintain her channel as a way of teaching everyone about all of her favorite things in fun, quick videos.
Country: 🇧🇷 Difficulty: ⭐ ⭐ ⭐ ⭐ ⬜ Subtitles: Auto-generated Portuguese
Channel Tags: science, history
Ciência todo dia is an amazing Brasilian YouTube channel for people who either have more interests than just languages or who are looking to really work on their more technical vocabulary in Portuguese.
Each video is a fun explanation of a common question, paradox, myth, or theory--all using great graphics, clear explanations, and a ton of curiosity.
Just be warned that because of how difficult some of the concepts are to follow (despite the amazing audio quality and slow, illustrated explanations) you really need to actively watch these videos in order to follow them.
Portuguese YouTube News Channels
As I said in the introduction, one of the things I do every day is get my news in other languages. These Portuguese YouTube channels are a mix of international and local news, which will not only help you keep informed about the world but also decolonize your daily routine.
Country: 🇬🇧 🇧🇷 Difficulty: ⭐ ⭐ ⭐ ⬜ ⬜ Subtitles: None
Channel Tags: news channel, investigative journalisim
Produced in London with the BBC, BBC News Brasil focuses its content on important stories which concern the large Portuguese-speaking country. From investigative journalism about the Brasilian federal government to environmental concerns in the Atlantic, all of its videos help viewers connect to Brasil and it's languages as citizens of the world.
The content and journalism here is by far the best of any news channel on this list. But unfortunately, the two drawbacks are (1) that many of the stories are simply translated from other reporting done in other languages (so you if you already subscribe to a BBC channel in another language, you'll find a lot of it very repetitive) and (2) there are no subtitles.
Country: 🇲🇿 Difficulty: ⭐ ⭐ ⭐ ⭐ ⬜ Subtitles: auto-generated Portuguese
Channel Tags: news channel
Miramar is a national news service that features cable-style reporting local to Mozambique and is most subscribed to YouTube account from the country. The news is largely local to the country but also regularly features international news.
I highly recommend this channel for a non-colonial perspective on Portuguese and the people we share the language with, but again don't suggest that people who regularly use their subscribe page actually click the button because of how much this channel updates.
Country: 🇪🇺 🇵🇹 Difficulty:  ⭐ ⭐ ⭐ ⭐ ⬜ Subtitles: none
Channel Tags: news channel
euronews focuses on cable-styled news reporting in Europe, with this channel translating all of it's videos into Portuguese. If you're an EU citizen (like me), you'll find these videos are great for maintaining your Portuguese while also keeping up with news from around the continent. The reporting is done well, the stories are topical, and they all feature voice-overs into Portuguese.
Now, if you regularly use your YouTube subscribe page for language learning, I actually don't recommend following euronews because of how many videos they upload every day. (You'll find your feed absolutely flooded.) Rather, put them in your bookmark bar and check in on them every few days. That way, you can pick out the stories you're most interested in.
Portuguese YouTuber Channels for Fun, Lifestyle, and Pop Culture
This category of Portuguese YouTubers is really a grab-bag of content that is truly native to YouTube.
When I say native, I mean videos that are (1) regular people just doing regular things (like much of the original content on YouTube back in the early 2010s), (2) full of trends, hacks, challenges, and other viral content, and (3) all between that sweet time slot of 6-18 minutes.
I did my best to sum up the flavor of each channel between the channel tags and my summary, but just know everything on here is really entertaining, quite fun, and totally click-worthy.
Country: 🇨🇻 Difficulty: ⭐ ⭐ ⭐ ⬜ ⬜ Subtitles: auto-generated Portuguese
Channel Tags: beauty, lifestyle, personal vlog
Marieta is the most subscribed to female YouTuber in Cape Verde, and you can see why. Her weekly videos are about things social media users love: self-care routines, makeup hacks, super-cute social media challenges and personal vlogs.
All of her videos are clearly explained with tons of visual aid and a lot of repeating vocab, so Portuguese students looking to try their first shot at native-level content will probably enjoy her channel a lot.
Country: 🇵🇹 Difficulty: ⭐ ⭐ ⭐ ⭐ ⬜ Subtitles: none
Channel Tags: challenges, hacks, viral videos, trends
D4rkFrame is one of the many Portuguese YouTube channels where the hosts just, well… do YouTube stuff.
Video themes rang from trying out TikTok hacks to rating $1 wish products. If you like mindless fun mixed in with some good humor, you'll like this channel.
The language is challenging (and the channel has no subtitles available) but nearly everything is contextualized with props or within the situations, so intermediate or advanced learners should find it doable.
Country: 🇧🇷 Difficulty: ⭐ ⭐ ⭐ ⭐ ⬜  Subtitles: Depends on the video
Channel Tags: viral videos, challenges, pop culture, lifestyle
You probably already know Buzzfeed for their hyper-clickable super-fun lists and quizzes. Buzzfeed Brasil is no different: the channel features everything from reaction videos to challenges to "questions you always wanted to ask but never good".
Unfortunately only about half of the videos on the Portuguese channel are actually in Portuguese. Many are from Spanish or English language Buzzfeed channels, and have built-in Portuguese subtitles at the bottom of the video. (This is also why I tried to keep this list to individual Portuguese YouTubers, not companies or corporations, but I couldn't not list this channel.)
Still, they're totally worth following--all videos are well produced, have tons of visual aid to help you understand what's going on, and a nice peppering of slang.
Country: 🇧🇷 Difficulty: ⭐ ⭐ ⭐ ⭐ ⬜ Subtitles: auto-generated Portuguese
Channel Tags: pop culture, music,
Spartakus, like tons of viral video creators, has well-timed and culturally-relevant reactions to pop culture trends. But his reactions and videos go deeper.
Make sure you check out his videos where he analyzes Beyonce music videos for art history; takes on racism head-on; and asks hard questions about discrimination against LGBT+ people. His channel is the native-YouTube content a lot of us enjoy but without the silly pranks and clickbait.
Country: 🇦🇴 Difficulty: ⭐ ⭐ ⭐ ⭐ ⬜  Subtitles: auto-generated Portuguese
Channel Tags: music, interviews, vintage music videos
Kelly Stress's channel is the largest YouTube channel (by far) in all of Angola, and is a total grab-bag of videos. From live DJ sets to vintage Angola music videos from the 70s to dancing tutorials in the streets, his channel is a behind-the-scenes snap-shot of the actual on-the-ground music scene in the country. (He also has a handful of personal vlogs, like the one featured here.)
Kelly Stress certainly doesn't have the production-value-shine of Portuguese YouTubers based in Europe. But, unlike most other people on this section of the list, his videos are grounded in reality and actual culture. Give the channel a look-over and see what you think.
Country: 🇵🇹 Difficulty: ⭐ ⭐ ⭐ ⭐ ⬜  Subtitles: auto-generated Portuguese
Channel Tags: viral videos, hacks, challenges
Pi is like a lot of the Portuguese YouTubers on this section of this list. He tends to focus a bit more on video games, cars, and lifestyle than other guys on this list, so if you're if you want to see someone spraypaint Yeezys as a prank or react to the world's best Fortnite players, you'll probably like this channel.
He has plenty of slang and fast talking, but with a lot of context for most of what he's saying. (So this channel is a good place to get out of your comfort zone if you've mostly stuck to the news and podcasts for learners!)
Country: 🇲🇿 Difficulty: ⭐ ⭐ ⭐ ⭐ ⬜ Subtitles: none
Channel Tags: music, personal vlog
The most subscribed-to female YouTuber in Mozambique, Liloca is a musician who's channel features not only many of her music videos but interviews with the singer; lyric videos; live performances; and personal vlogs.
One thing I truly love about using YouTube to learn Portuguese is that you can access real life in a real way. Textbooks and even Netflix don't even come close. So if you want to see what the music scene in Mozambique is like, Liloca is the place to start.
Country: 🇵🇹 Difficulty: ⭐ ⭐ ⭐ ⭐ ⭐ Subtitles: auto-generated Portuguese
Channel Tags: reactions, pranks, viral videos, challenges
Wuant is another classic YouTube channel full of fun stuff. He tends to do a lot more reaction videos than other people (which I don't personally like), but has the largest following of any individual content creator in this section. (So clearly, "reacting to memes" videos are more popular than I ever thought they could be.)
And as a bonus: if you want to really get the hang of Portuguese slang, this channel is great. These videos are the fastest and most slang-filled out of any content creators' out of Portugal.
Country: 🇧🇷 Difficulty: ⭐ ⭐ ⭐ ⭐ ⭐ Subtitles: Auto-generated Portuguese
Channel Tags: reactions, challenges
Matando Matheus is one of those classic YouTubers who just does fun videos. Challenges, reactions, hacks, trends--he's done them all. If you want to turn off your brain at the end of a study session, you can watch him and his friends just do internet-things and have fun.
Just be warned, I gave this channel 5 difficulty stars. (There's a ton of slang, and everyon is talking a mile a minute.). So if you feel like you've gotten the hang of the language but want to see how real Brasilians speak with their friends, go for it! This channel will be a fun way to get to know the real language.
Portuguese YouTubers For Crafting, Cooking, and Culture
The Portuguese YouTubers in this section also feature content that's very YouTube-y (like the last). But these ones don't have the same viral-feel or click-bait as the others.
So I gave them their own category for people who love YouTube but don't quite like the influencer/lifestyle vibe of other content creators.
Country: 🇧🇷 Difficulty: ⭐ ⭐ ⭐ ⬜ ⬜ Subtitles: depends on the video
Channel Tags: cooking, hacks
Owned by Buzzfeed, Tasty is a super-fun series of websites, tiktoks, and YouTube channels all about cooking.
Almost all videos on this channel show anonymous hands prepping food with ingredients written on the screen in Portuguese (but without any speaking). But there are still a few videos in Brasilian Portuguese, featuring hosts and their hacks.
Doing recipes in Portuguese is a super fun way to learn the language. All of the recipes posted on Tasty are tested before launch, so I promise they're quality.
Country: 🇵🇹 Difficulty: ⭐ ⭐ ⭐ ⭐ ⬜ Subtitles: auto-generated Portuguese
Channel Tags: hacks, crafting, tech
Tubalatudo's videos are not only extremely satisfying to watch but come with a ton of activities that you can do along with him. (If the video requires something special, like the kit that this remote control cardboard car needs, there are always links.)
I'm a huge fan of doing activities in other languages to really create an at-home immersion experience. (And this channel is a great place to start.)
Country: 🇨🇻 Difficulty: ⭐ ⭐ ⭐ ⭐ ⬜  Subtitles: auto-generated Portuguese
Channel Tags: music
FeiaTV is a multimedia production company that makes music videos for Cape Verde musicians. Again: I normally don't include music videos in my YouTube lists, but using music to learn a language is great and FeiaTV consistently puts out several videos a month and is one of the most subscribed-to Mozambique Portuguese YouTube channels.
Portuguese YouTuber Channels for Content Creators and Business Owners
This section is hidden all the way at the bottom because it's not everyone's cup of tea.
But if you truly love YouTube for language learning (or have your own dreams of owning a language-based business one day) then these Brasilian YouTubers constantly dish out good and accessible advice.
Country: 🇧🇷 Difficulty: ⭐ ⭐ ⭐ ⬜ ⬜ Subtitles: auto-generated in Portuguese
Channel Tags: marketing, video production
If you're thinking of breaking out into YouTube, check out this channel. Host Caique Pereira delivers fast-paced and energetic content in his videos, which feature simple explanations and plenty of context to help you with any language issues you might have.
Top-viewed videos on the channel include topics like errors that all YouTubers make; why your channel isn't growing (even if you post every day); how to deal with common audio problems; and how to find new video ideas.
Country: 🇧🇷 Difficulty: ⭐ ⭐ ⭐ ⭐ ⬜ Subtitles: auto-generated Portuguese
Channel Tags: business, self-help, influencer
If you're not into the business-bro-self-help vibe, Tiago's channel can be a bit much. But if you're familiar with the genre, this channel has won over a massive Brasilian YouTube following of young start-ups who want his lifestyle.
The advice he dishes out largely comes from quality business books, and is produced in entertaining ways. His personal vlogs and style are a bit performative (and it's all a bit repetitive). But if you want to take your first steps into owning a business or familiarizing yourself with business terminology in Portuguese, his channel makes it easy.
Do you know of any international Portuguese YouTubers that should be mentioned here? This page is constantly being revised and edited for a mix of quality content. Drop any suggestions you have in the comments so we can check them out for consideration!