Best Way to Learn German (for Cheap in 2021)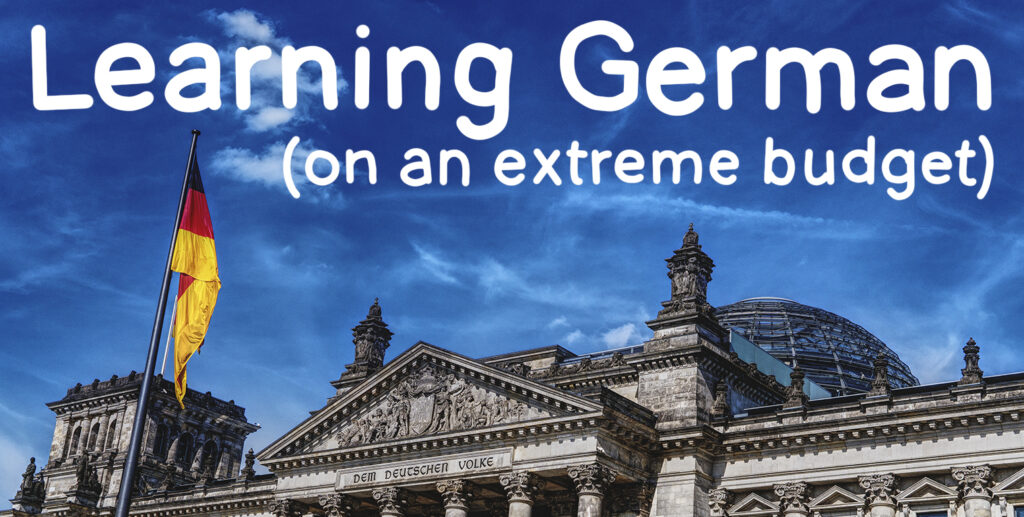 At the beginning of the 2020 quarantine, my brother asked me a question: "What's the best way to learn German for free?"
I'd already learned 4 other languages to fluency and was about to start on my 5th, so my original response was "well the best way to learn German period is with a teacher."
But my brother and I are both artists and, at the beginning of quarantine, found ourselves painful unemployed with significantly more time than money.
At the time of me writing this, spring 2021, we're rounding our first year of an absolutely bonkers challenge of learning German for free in less than 30min a day.
For casual language learners this might sound pretty normal (certainly not "bonkers"), but for seasoned polyglots? This is absolutely not the best way to learn German. What about teachers, classrooms, private tutors, or good textbooks? What about at-home immersion? Why would I do myself such a disservice?
But if you're a new language learner with little time and almost no budget, I built this tutorial for you. Here, you can learn from my mistakes and victories and find your best way to learn German online.
 ✏️ When you see this box, it is your call to write and reflect. This is an interactive tutorial, so take advantage of it!
✅ When you see this box, stop and plan. Make sure you leave this window with a strategy!
FYI, some (but not all) of the products I recommend here are affiliate links. This means I may earn a small commission off them, but at no additional cost to you.
Your Best First Steps to Learning German
1. Set A German Learning Plan
When James first called me in March of 2020, we sat on a video call taking stock of what our lives were going to look like under quarantine. A sudden halt to all live events meant both of us wouldn't be working anytime soon, but we both wanted to make use of the gift of several free months.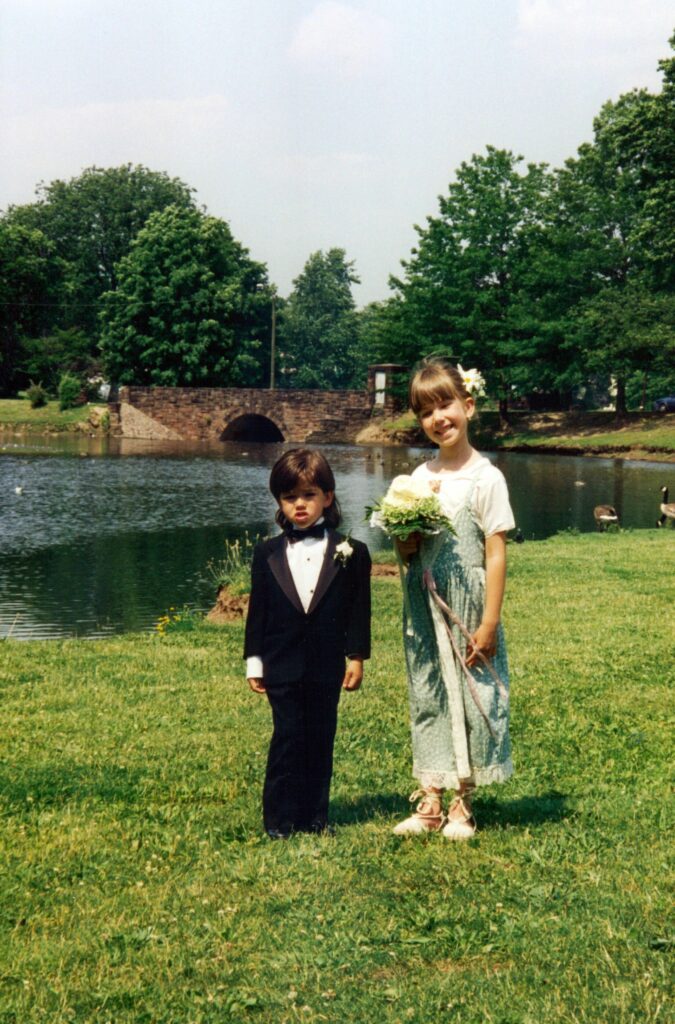 First, we set our goals.
My brother, an opera director, needed to use German for work. He needed to be able to read and pronounce it well, plus ideally be able to have conversations.
I, a visual artist, didn't need it for work. I just wanted to read books in the language one day, and speak with a few German friends.
But we also had a common goal: having fun learning the language together. We've lived in different states our entire adult lives, so enjoying the journey together (and not fighting too much) would have to be central.
 ✏️ What is your goal with German? Be as specific as possible: how do you see yourself using the language once you've learned it?

Once we had our goals settled, we started looking around online to see what types of resources we would want to use.
For both of us, reading was more important than speaking–although most people will want to know the best way to learn German in order to speak it fluently.
(But that's why it's so important to set your goals clearly in the beginning.)
The next thing we had to do was figure out what types of language learning resources we would want to use.
After we decided on this, we could narrow down our search a lot more.
Learning German with Private Tutors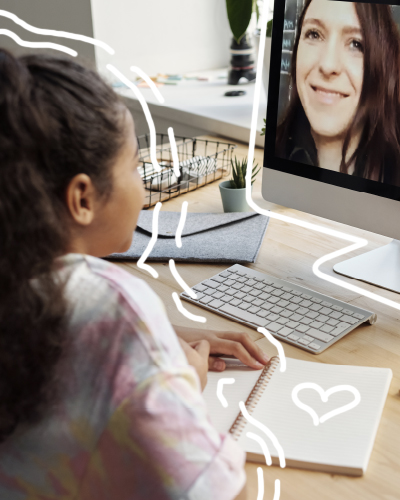 Pros: In my opinion, private classes are the best way to learn German… if you have the budget. They're one-on-one, totally customized to your needs, and come with plenty of bonus resources from the teacher.
Cons: Private German tutoring costs less than university tuition in the US, but more than almost any other resource. Plus, the teacher can't place German into your head: you'll have to do a lot of studying outside of class, no matter what.
Prices: $15-40/hr online
Learning German in Classes
Pros: If you love accountability and want to be on someone else's schedule, this is for you.
Cons: If you're not a confident language learner and haven't had good experiences with language classes when you were younger? Group classes might end up frustrating and expensive–not to mention the lack of scheduling flexibility.
Prices: Varies
Learning German with Textbooks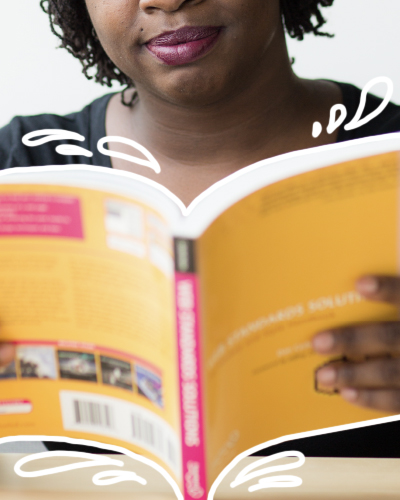 Pros: Textbooks are the most comprehensive way to learn German if you're self-studying without a teacher. A good textbook has great explanations, plenty of exercises, a heap of listening practice, and even an online portal.
Cons: If you're not used to studying a language, a textbook can be more intimidating than other types of resources and less instantly gratifying. Plus, they're not complete since they don't come with very much real-life applications.
Prices:  $20-90 per book
Learning German with Apps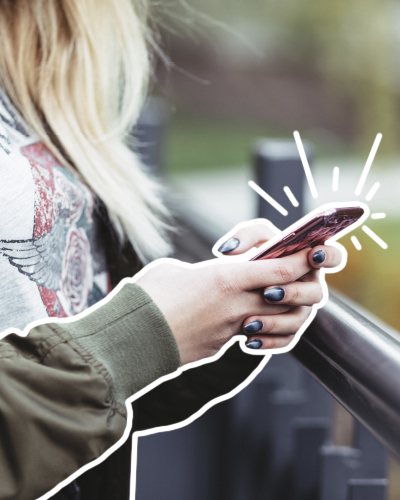 Pros: Apps are cheap, interactive, fun, and portable. Virtually anyone can commit to learning German with an app on a daily basis.
Cons: Not all apps are created equally, and overall apps are not the best way to learn German (or any language) because they lack structure, real-life practice, and context. But, they can be a good supplement to a better program.
Prices:  free – $10/month
Ultimately, James and I decided to go app-heavy for the beginner levels.
Pretty strange, since I mentioned they're not the best way to learn German, right?
For us it came down to one thing: our $0.00 budget.
If app are use correctly, as well as in conjunction with other resources, they can be great at lower levels. You'll want to graduate off of them soon, but for us at the very beginner stages it seemed like a good start.
In the next section, we'll help you find your first German resources.
✅ Which type of resource do you want to investigate first? Which resource might be a good backup?
2. Best Resources for Learning German
James and I decided we'd mostly be using apps because of their price tag.
But: which apps? And how many?
There are two pitfalls new language learners fall into.
Using one free app as their only resource. The problem here is that, with something as complicated as a language, no one app or book will help you do everything. (Nor one teacher!) You simply won't have enough explanations or exposure to the language.
Over-investing in too many things. On the flip side, some new language learners think that the best way to learn German is to simply buy a bunch of different, top-notch resources. But this is important: you cannot buy a language. You can only learn one.
So to start, I suggest this formula to find your perfect German resources:
Weeks 1-2: Start with 3-4 trial resources
Weeks 3-4: Narrow down to the 1-3 you like the most
Week 5+: Settle into your new flow and stick with them until you finish them!
Here are the full list of resources we looked at before deciding on which ones we wanted to start with, including reviews.
Finding Online German Teachers and Classes
There are 3 major platforms for finding online language teachers:
iTalki – The largest by far (It's what I myself use, so get $10 off your first lesson here.)
Verbling – Medium-sized and reliable
Preply – The cheapest, but the hardest to find great teachers on
The only other popular platform which features primarily group classes is 
Lingoda
, but I didn't have great experiences on it for my French so I don't generally recommend it.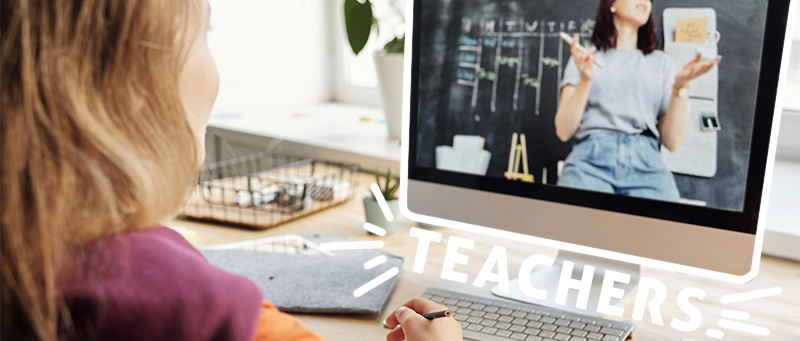 Textbooks for Learning German
Here's the down-and-dirty for textbooks for learning German.
Practice Makes Perfect – They're my favorites, but need to be supplemented with additional teaching. Around $15/each and you'll probably want 3-4.
German Uncovered – By far the best language textbook I've ever seen. It'll cost you $199, but with videos, exercises, listening/reading practice, and plenty of fun, it's an incredible investment. (I used the Italian version and adored it.)

There are 3 major audio courses for language learners.
Language Transfer – LT is a Patreon-supported online language course that will teach you much of the beginning of German grammar. Unfortunately, the course isn't completed, but…
Michel Thomas – …MT is incredibly similar will take you the rest of the way. The full course will cost you $80 for the beginner and $80 for the advanced, but it's intuitive and fun.
Pimsleur – Pimsleur is the most well-known audio course, and for people who are brand new to German (or just want to use German to travel), it's the most simple to use. Just repeat after the speaker!

Best Apps for Learning German
Here are the most outstanding German language apps.
Seedling works with everyone's favorite German YouTube Channel, Easy German (who we'll talk more about in the next section) to teach you an epic ton of vocab from beginner through intermediate.
DW Learn German is a state-sponsored app that teaches you German grammar and vocabulary through its original film, Nico ist weg.
Memrise combines videos and activities to slowly teach you phrases and vocabulary useful for travel and daily life.
Anki is a blank flashcard app, loved by polyglots, techies, and med students, where you can record and review what you learn in other language learning resources.
Click here to see our full list of German apps, featuring tutorials and reviews.

✅ Which type of resource do you want to investigate first? Which resource might be a good backup?
When James and I first sat down to start with German, we settled into the following resources:
Language Transfer
Michel Thomas
DW Learn German App
Anki
We settled on this combination because Language Transfer and Michel Thomas are relatively grammar-heavy but fun and interactive. DW Learn German is more on the vocabulary side, but requires a lot more memorizing independent of the app–thus, we included Anki in the shuffle.
I'll talk more about how we juggled these 4 resources soon. But now, let's look at the fun side of language learning.
3. Learn German while Having Fun
By the time we were 3 months into learning German (and 3 months into quarantine), we were feeling good. Our resources were working and our consistency had kept up, but our daily flashcard and app routines had started to feel like a routine.
Language learners often say the best way to learn German (or any language) is to treat it like a marathon and not burn out in a sprint.
But I disagree–I think it's more like a road trip.
Think about it: a road trip isn't about the destination but about what you'll see (and do) along the way.
And if all you see is the same monotonous landscape, you're going to fall asleep at the wheel.
On top of that, learning through immersion is incredibly effective: it not only stimulates your brain, but helps you practice your listening and cultural skills, connect with the language, and pick up some new vocabulary along the way.
Here are a few options you have for learning German through at-home immersion!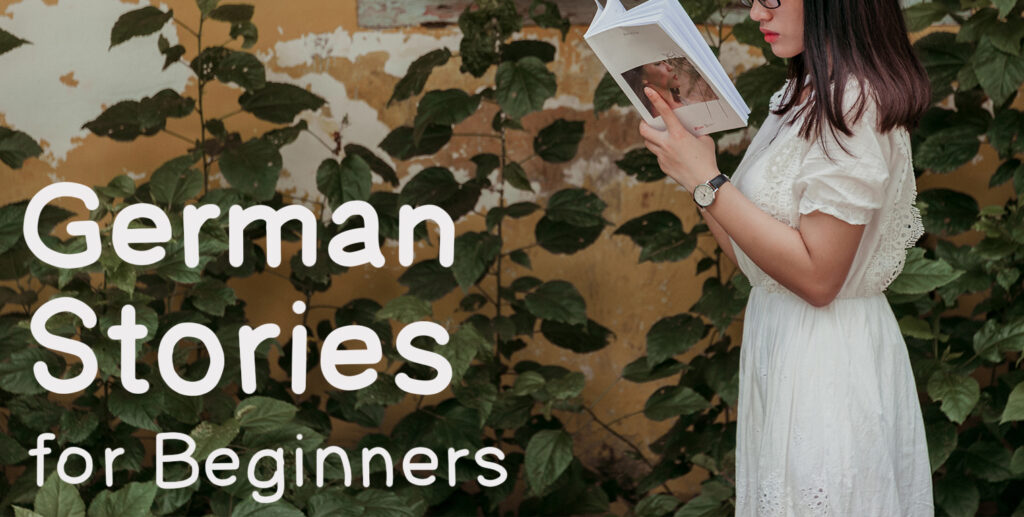 Since James and I are learning German largely for reading, diving into short stories is one of the things we're looking forward to the most.
The most important thing is that you start with graded readers: short novels or stories written for adult language learners.
Click here to see my full list of German story recommendations!
Learning German with Music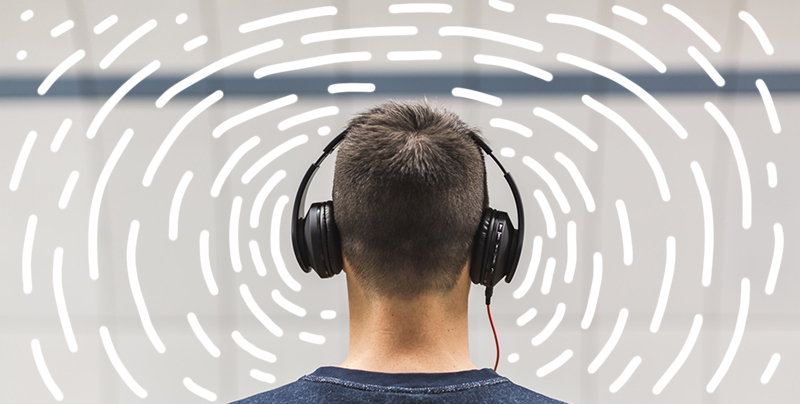 German music is absolutely underrated.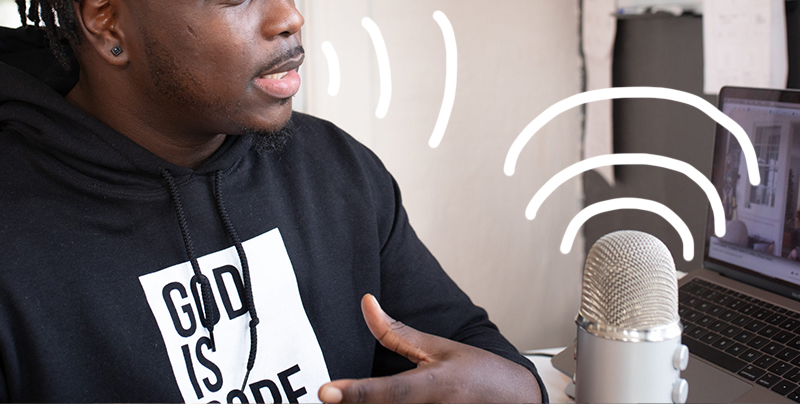 Podcasts for German learners aren't like the audio courses above–they're fun or educational, like real podcasts, but slowed down and explained for language learners.
The ones friends have recommended me are:
Easy German, an intermediate by the Easy German YouTube Channel (mentioned above)
Coffee Break German, a bilingual and extremely extremely simple podcast
Warum nicht?, another intermediate podcast by the same people who created the DW Learn German App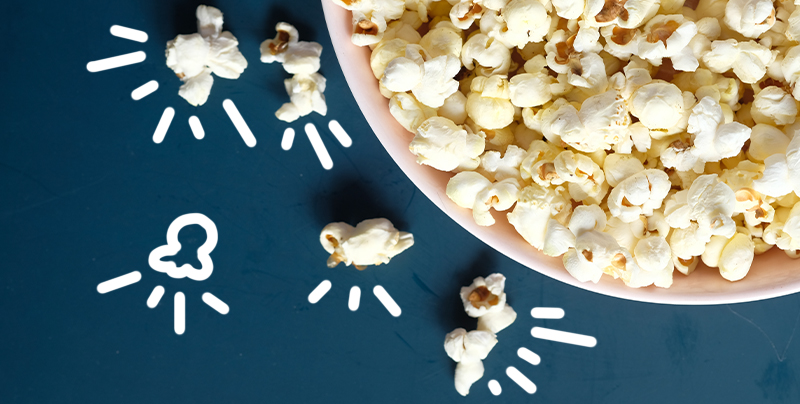 My friend Ingrid (one of my German friends who I'm excited to start having conversations with) has a great list of the Best German TV Shows on Netflix that I recommend using.
Be warned: you won't be understanding German Netflix for a long, long while.
But couple it with the Chrome Extensions Language Learning with Netflix and use any of the shows there as an interactive exercise, and you'll have a great time.
I generally love language immersion, so I was ready to hop into everything. But for James German will be the first language he's learned since graduating high school, so he wanted to take it easy.
We decided to just start with a little of the endless backlog of Easy German YouTube videos (plus music, of course), and within a year to graduate to short stories and some of the beginner podcasts.
✅ What kind of German immersion do you want to incorporate into your life? Explore these lists and think of what you want to prioritize.
4. Build Your Best German Learning Habit
Now that you have your tools: how do you incorporate all of this into a single, unified study plan?
There are 3 ways you can organize yourself into a study plan. Because I've been learning languages for a number of years, my own German plan was a mix of all 3–mostly because I already had them all on deck.
The
Language Habit Toolkit
is like a language coach in a box. It will help you get organized, stick to your plan, and troubleshoot any issues along the way.
Inside the kit comes a series of training videos, 8 language-coach-designed trackers, and a pdf handbook all bundled up in easy step-by-step tutorials.
The Toolkit is pricey–it'll cost you $200 (or 2 monthly payments of $100). But if this is the only thing you buy when learning German, it will be the best money you spend.
The Free Immersion Mini-Course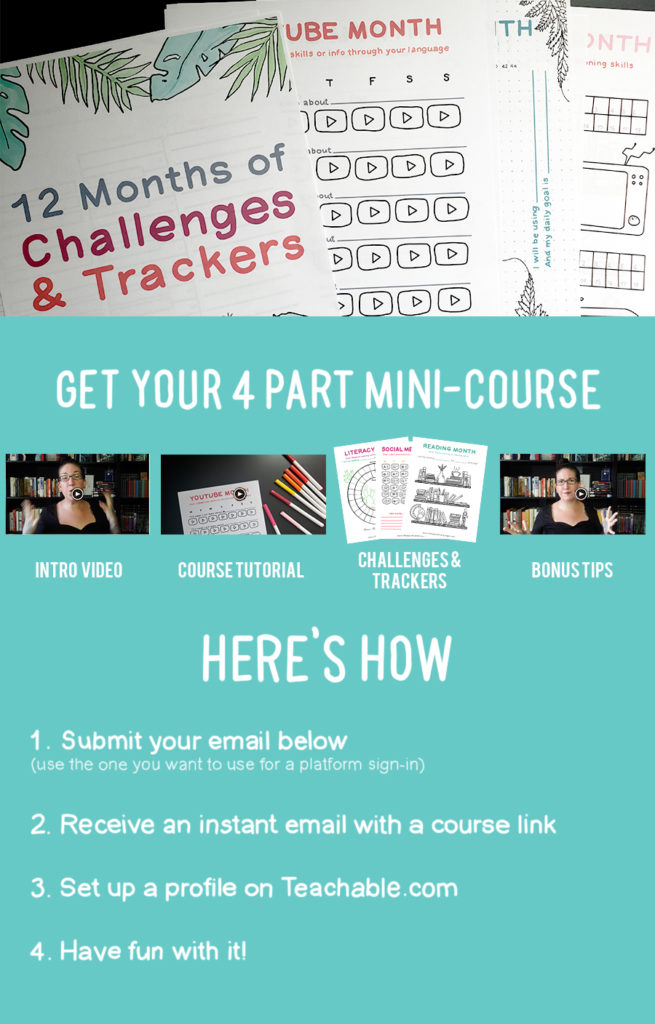 Aren't ready to take your language learning that seriously? I've created my own 4 part immersion mini-course to help you choose a new task every month on your German journey.
Now it doesn't have the same organizational level or top-notch tutorials as the Toolkit (which is why you pay so much for that one), but it's 12 monthly trackers and course tutorials are free on this site and perfect for new language learners.
DIY German Bullet Journals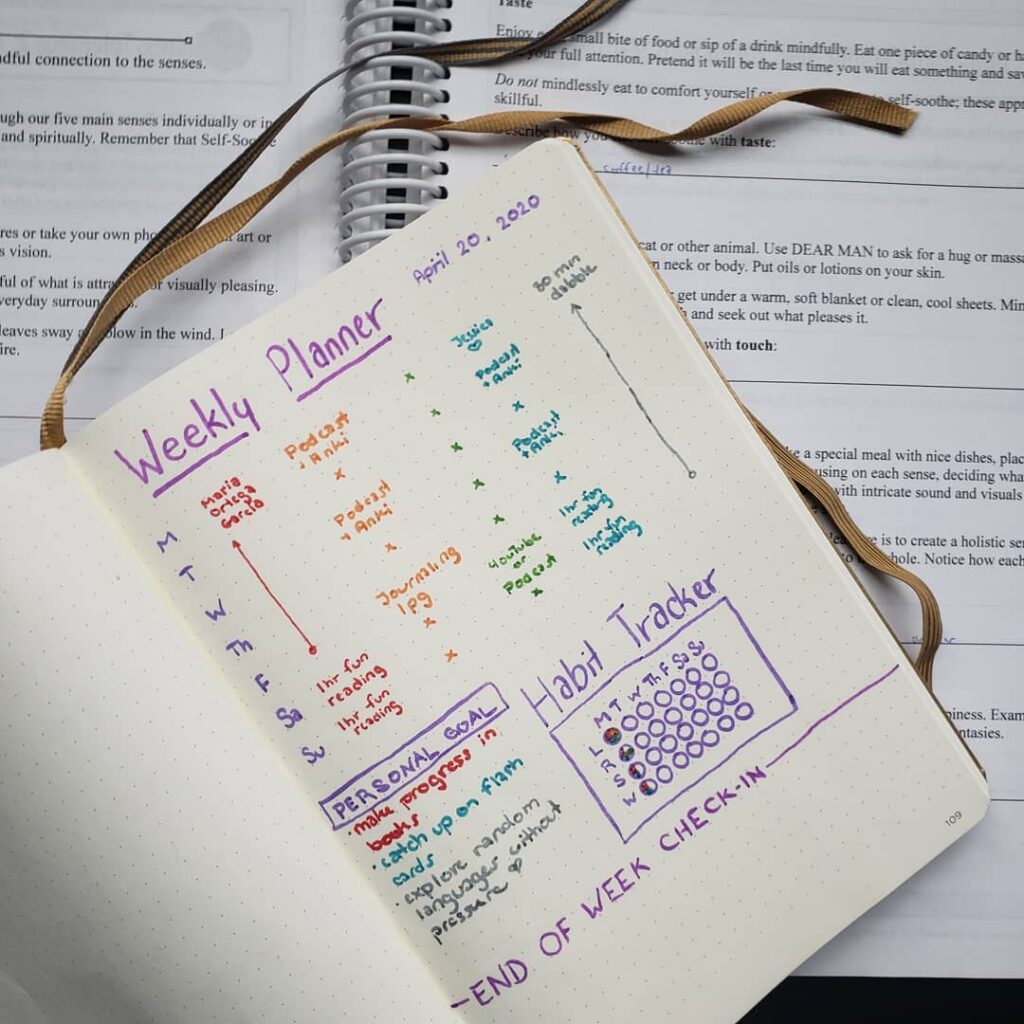 Want to do your own thing? You can easily find a ton of planner inspiration on Pinterest or Instagram. But here are a few things every language bullet journal must have:
A daily habit of 5-30min
A system for reviewing what you've already learned
Weekly or monthly mini-goals
A way to make sure you actually finish the resources you start, and don't keep starting new ones
For our beginner German, we used the organizational system in the Language Habit Toolkit, but once we hit that intermediate level will be switching over to my own Mini Immersion Course.
With the tools we picked out (and our crazy schedules, even unemployed in quarantine) we decided we could commit to around 15min a day, with some days a bit busier. Those would be the days we could get on Zoom together and study.
As for our flow with the resources we picked out, this is what it's looking like:
Months 1-3: Daily

Language Transfer

tracks, which we then fed into

Anki

flashcards, until we finished the course.
Months 4-5: Bi-weekly sessions of the

DW Learn German

app, which we did on Zoom together and made

Anki

flashcards out of. (By the end of Month 5 we got tired of the app then took a break.)
Months 6-7: Daily

Michel Thomas

tracks, which we again fed into

Anki

, until we did 3 out of the 8 tapes.
Months 8-9: More bi-weekly

DW Learn German

sessions (and more

Anki

card creation)
Months 9-12: Switching up a tiny bit of

Michel Thomas

or

DW Learn German

every week, alternating between the two (with, of course, even more Anki flashcards)
Months 12+: Our vision is to continue on this

Michel Thomas

/

DW

rotation until we finish the A1 level. After that, we'll decide!
Daily from the beginning, we've watched 1 episode of

Easy German

as a warmup, then reviewed all of our old

Anki

flashcards no matter how crazy our days were going.
Hopefully, when you see what the organization of this all actually looks like (I ever had to color-code it here to make it make sense) you'll see why a tracker is so important.
 ✏️ Answer the following questions: 
On the days you're dead-tired from work, what is the absolute minimum of German you will do?

On a day off when you're extra inspired, how much will you study on those push dates?

What do you think the best tracking method for you will be?

How do you want to start experimenting with the tools you picked out?
✅ Put together your German planner before you close this window to make sure you start your new language learning journey on the right foot!
Final Thoughts on the Best Way To Learn German
So what's the best way to learn German?
Whatever way interests you, excites you, and helps you put one foot in front of the other.
By this point in the tutorial, you should have a handful of different options you can take and a vision of how they all fit together.
Have any questions? Feel free to leave them in the comments so I can help you out!