24 Polish Books and Novels for Language Learners (2021)
Polish books and novels have been one of my biggest reasons for why I'm learning the language.
But they've also been one of my biggest resources in order to learn the language.
As a polyglot who's first love is literature, I wanted to compile a list of Polish books that I have personally used for learning or that are on my own reading wish list.
I'll also share some of my tips for reading Polish literature for you (I've read books in 5 languages and counting) and finally at the end how I use Polish books as part of my language immersion plan.
Tips for reading books in Polish
Reading in a foreighn language is hard.
I have a longer post about how to read in a foreign language based on academic research, but here are some of the highlights which you can use when reading the Polish books on this list:
Pick Polish books at the language level you're currently at, not the level you want to be at. You will still find a ton of new words but not feel like you're spending the majority of your time consultation a dictionary.
If you get lost, looking up words is a good reading strategy according to educational sciences. It's not cheating any more than asking a tutor to clarify a new word is.
At the higher levels, pick Polish books you're actually interested in. Unfortunately, there are very, very few beginner books in Polish. But once you're at the higher levels, pick up books you're actually interested in (and not just those you think you're "supposed" to read). 
Build a reading habit. Sign up for our free mini-course and habit tracker which you can use to help you actually finish the Polish books you pick up.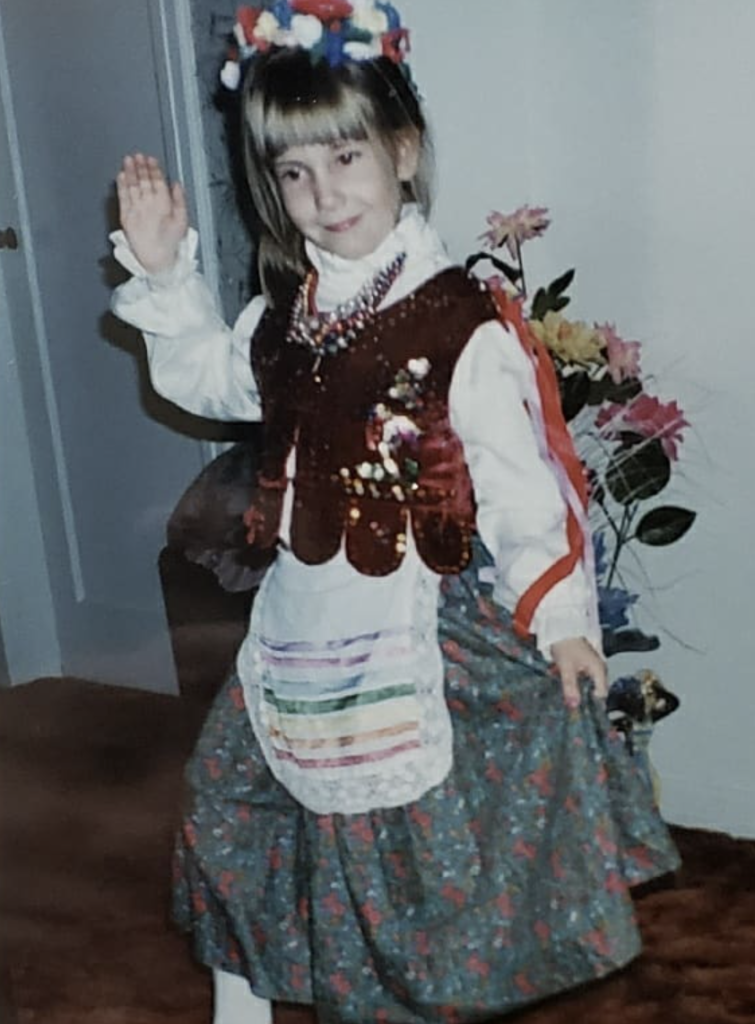 Now that all said, I once again want to stress the importance of picking a Polish book at your correct level.
That's why all of the books on this list are curated using these real linguistic studies to help you pick out something at the right level for you based on real linguistics research.
So jump into reading at the level you're currently at, and feel free to save this list for future reading goals.
Polish Books for Beginners (A1-A2)
Depending on where you are in your Polish language journey, books might either seem extremely far away or the next obvious step.
The "Polish books" at this level aren't novels.
They're texts which will help you get used to reading in Polish so soon you can work your way up to full stories with time.
Language learning is a marathon, not a sprint, so I invite you to enjoy improving your language with some of the text in this section.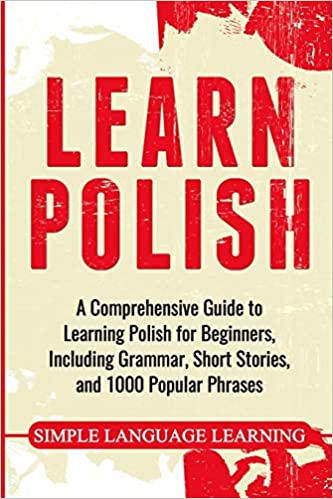 Author: Simple Language Learning
Year: 2020
Genre: Instruction Book
Length: 488pg
This book looks like a grammar and vocabulary book–because it largely is.
But the real value of it for our purposes is that after teaching you a bunch of basic language things, it then uses all of those concepts and words in a short story spanning several chapters.
So if you're using Polish books as part of a comprehensive learning strategy and have never read in the language before, I suggest starting with this one.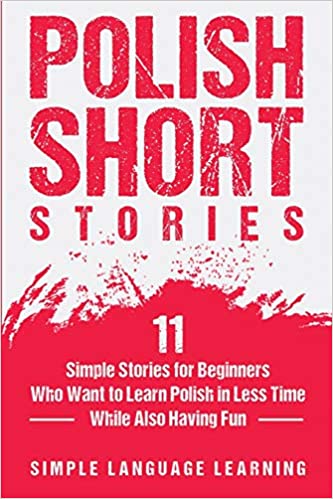 Author: Simple Language Learning
Year: 2020
Genre: Short Stories
Length: 136pg
This book has my favorite layout of any Polish beginner book.
It's written neatly in Polish with additional English translations for every paragraph (instead of word-for-word translations like some of the other ones) and at the end of every short story there's a quiz to help you work with the text a bit more.
It's by the same company as "Learn Polish: A Comprehensive Guide" (listed above), so consider buying both so you can linear progress in your Polish reading journey.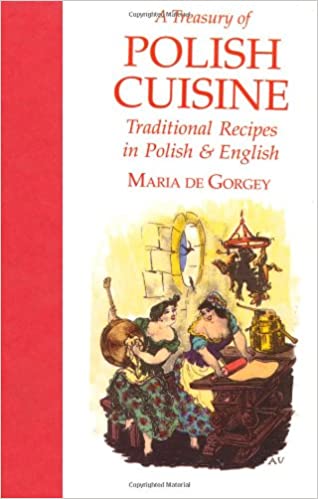 Author: Maria De Gorgey (Editor)
Year: 1999
Genre: Cookbook
Length: 53 recipes
I know what you're thinking: does a recipe book really count as a book?
This bilingual book will help you start building up your ability with long Slavic sentences and help you begin to practice vocab for daily life within a familiar context.
One of the biggest hurdles Polish students have is recognizing familiar words in a new case. By doing recipes you'll force yourself to focus on the details and start to familiarize yourself with the seemingly infinite declensions in Polish.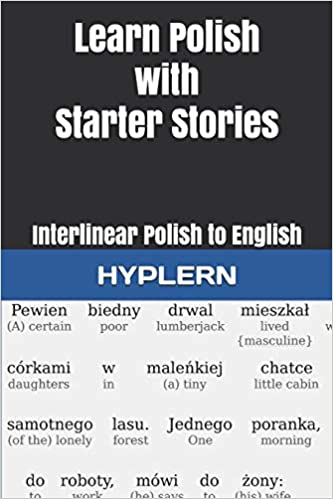 Author: HypLern Languages
Year: 2018
Genre: Short Stories
Length: 115pg
This Polish short stories book is a bit different.
Under every line of text written in Polish, you'll see a second directly underneath with a word-for-word translation.
The publishing company suggests getting the book in paper so you can physically cover the English translation under each line.
I personally find it really hard to read, but some of my friends have found it great (since they don't have to ever guess or look up words), so give it a try and tell me what you think in the comments.
There's also a second Polish short stories book for beginners written by the same publisher, which can be found here.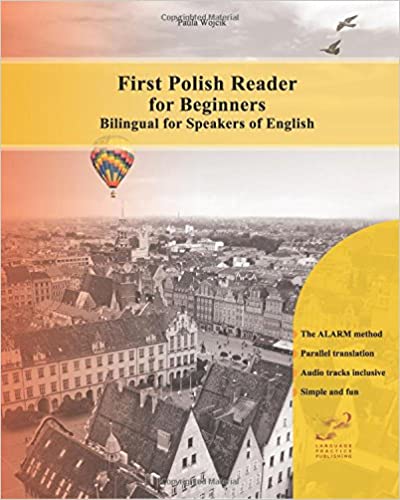 Author: Paula Wojcik (Author), Vadim Zubakhin (Editor)
Year: 2010
Genre: Short Stories
Length: 126pg
This tiny Polish book of short stories has an interesting layout: it's written sentence-by-sentence with the corresponding English translation on the opposite side of each paper.
It also comes with it's own built-in dictionary of words so if you're a flashcard fiend (like me) you'll enjoy being able to really dig into vocabulary with these stories.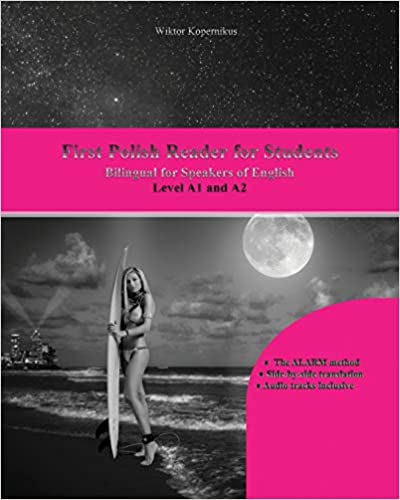 Author: Wiktor Kopernikus
Year: 2019
Genre: Short Stories
Length: 136pg
Another Polish book of short stories, students will go chapter-by-chapter as they discover vocabulary broken up by theme.
A lot of graded readers in every language are a bit clunky to read, and this book is certainly no exception, but ultimately they're super helpful.
This book also has audio tracks included for students who find listening easier than reading (or reading easier than listening) so they can train both skills together.
You can also see the other 3 books in the series here:
Polish Books for Low-Intermediate Learners (B1)
B1 is conversational level, so at this point most language students want to jump in and start reading full novels. If they can have a full conversation, they can do anything right?
Unfortunately, most teen or adult novels use around 9,000 different words–but if you're conversational in the language, you probably only have around 3,000-5000 words.
So here are some Polish books which you can use to bridge the vocabulary gap.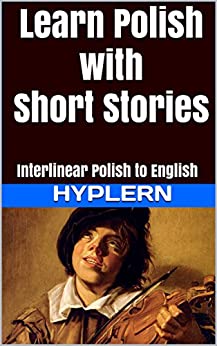 Author: HypLern
Year: 2017
Genre: Short Stories
Length: 243pg
This short story book isn't as thrilling as a monolingual novel (it has the strange word-by-word translation approach which is both super helpful and super annoying) but it's a great tool.
With it, you'll start to dive into more particular vocabulary and idioms that will make progressing up to advanced Polish books much easier.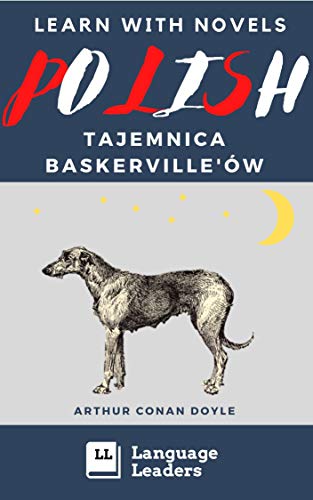 Author: Arthur Conan Doyle (Author), Eugenii Żmijewskiej (Translator)
Year: 1901 (written) / 2020 (translated)
Genre: Mystery novel
Length: 239pg (bilingual edition)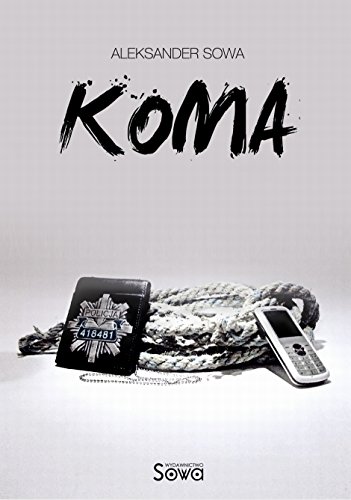 Author: Aleksander Sowa
Year: 2015
Genre: Thriller Novel
Length: 182pg (bilingual edition)
Koma is a Polish thriller novel which the author himself translated into English–although it wasn't directly written for students.
So if you want a challenge (but aren't ready to read a full novel by yourself yet) try this one.
(The author also has a second thriller called Jeszcze jeden dzien w raju which is also available in a bilingual English/Polish edition.)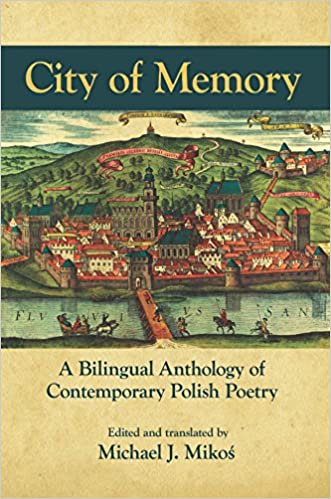 Author: Michael J. Mikos (Editor/Translator)
Year: 2015
Genre: Poetry
Length: 122 Poems
Poetry is a great way to start more deeply exploring a language, even with a limited vocabulary.
This anthology features 22 Polish authors from 2000-2015 in a bilingual edition so you can explore grammar and structure in a more creative way.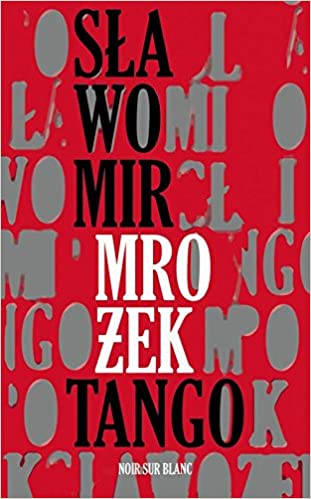 Author: Slawomir Mrozek
Year: 1965
Genre: Play (Drama)
Length: 208pg
Arthur grew up the son of two Avant Guard artists in a childhood devoid of order, hierarchy, and tradition. But now, as an adult, he decides to forge his own meaning and structure by staging his own wedding and dragging family, friends, and lover along with him.
Plays are short, literal, and contain simple dialogue–making them a hugely underused resource for B1 language learners trying to move into real literature for natives. And because Tango is one of the most important Polish plays of the 20th century, it's the perfect place to start if your goal is to really know Polish history and culture (as well as the language).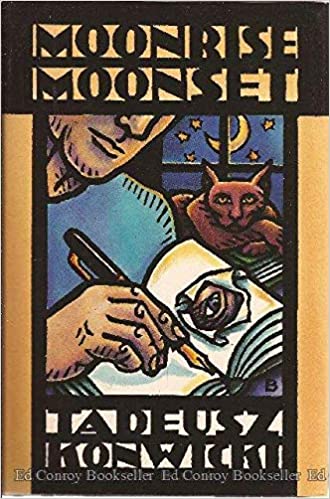 Author: Tadeusz Konwicki
Year: 1987
Genre: autobiographical novel
Length: 288pg
Konwicki, one of Poland's best known authors of his time, describes his childhood and the political events that eventually lead to the end of the Soviet Union in this novel.
The English and Polish book edition is perfect for learners moving from graded readers published by language education companies and into real fiction.
Polish Books High-Intermediate Learners (B2)
At B2 you'll be able to start reading very basic Polish novels (the kind given to high school students) which are relatively short and use relatively simply language.
That's what you'll largely find in this section, with a sprinkling of other types of Polish books that should be an interesting challenge for you.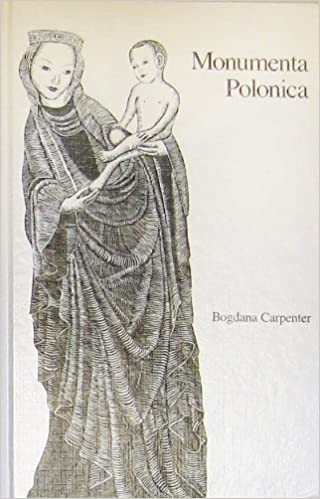 Author: Bogdana Carpenter (Editor)
Year: 1989
Genre: Poetry
Length: 442pg
If you want to one day be able to read classic Polish literature (or take a C-level test), this anthology is a great place to start.
It'll features an older version of the language that most Polish students won't be familiar with, but has plenty of English translations to help you through it.
It's also huge–so if you buy it at the B2 level and read a poem a week, you'll likely still be working your way through it by the time you're preparing for any C-level class or test.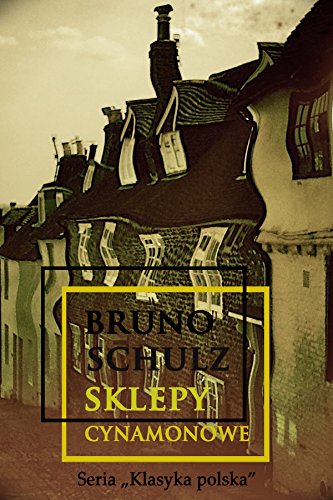 Author: Bruno Schulz
Year: 1934
Genre: Short Stories
Length: 72pg
"Cinnamon Shops" is a collection of surreal, dreamlike stories in which characters move through their semi-real lives in a local market.
While short, this book is challenging with plenty of specific vocabulary, blurred realities, and subtle transitions. It's great for Polish learners who are trying to adjust themselves to reading longer classics but still need to work on some elements of comprehension.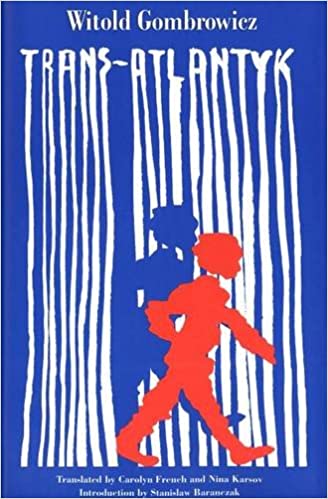 Author: Witold Gombrowicz
Year: 1953
Genre: Political Novel
Length: 152pg
Written by one of Poland's most important 20th Century literary figures, Trans-Atlantyk is a novel that mirror's the author's life in exile at the outbreak of World War II. Full of twists, turns, and an unforeseen duel, the political novel uses farce to critique and explore the political regimes of Europe.
(I'm unfortunately unable to find a Polish version of the book to link to, so just make sure you check the novel's language when you buy to make sure you don't get a translation.)
Author: Witold Gombrowicz
Year: 1937
Genre:  Comedy / Political novel
Length: 320pg
Ferdydurke is one of Poland's 20th Century classics that explores the political through metaphor and a contemporary to Western counterparts like Animal Farm, The Trial, Gatsby, or The Return of Cheri.
But what sets Ferdydurke apart from other political novels of the time is that in this comedy, the protagonist finds himself thrown back in time to his former life as a child in school. Taking on diabolical teachers and questions of identity, the book was banned for decades by a series of various political regimes.
The length of this book is a bit longer than most B2 books, but the language is largely straight forward and plot easy to follow (once you understand the time travel), so make sure you're comfortable with other Polish books lower down on this list before taking this one on.
Polish Books for Advanced Learners (C1-C2)
The C-levels are where you can fully enjoy novels written in their own language (even though it might be a struggle sometimes).
Because of that, this section of the list was curated to make sure you find a mix of Polish canonical classics and contemporary best sellers so everyone can find something they get excited to read.
If you've gotten this far in Polish, I hope these Polish novels reward all the effort you put into learning the language!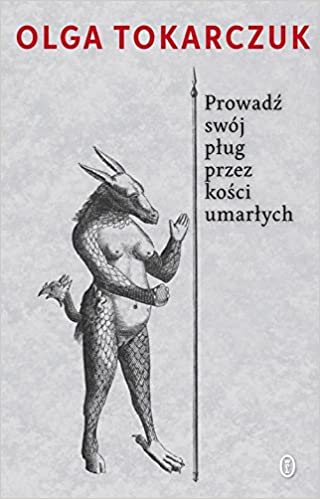 Author: Olga Tokarczuk
Year: 2009
Genre: Mystery / Thriller
Length: 320pg
This Polish novel ("Drive Your Plower Over the Bones" in English) was not only the recipient of a number of international novels but helped seal it's authors' Nobel Prize the same year.
One of the most beautiful and important contemporary Polish novels, I highly recommend putting it on your must-read Polish book list once you're able to tackle longer works.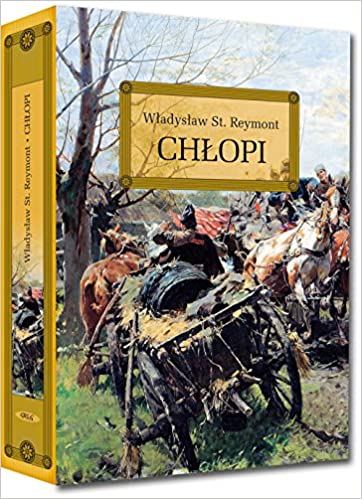 Author: Wladyslaw Stanislaw Reymont
Year: 1904
Genre: Classic Novel 
Length: 719pg
Chłopi ("The Peasants" in English) flows over the 4 seasons of life in the Polish countryside. The novel won Stanislaw Reymont his Noble Prize in literature and is one of the most important Polish classics.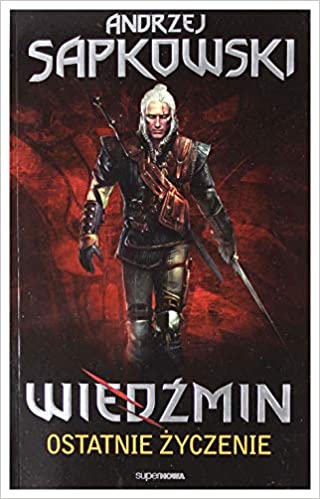 Author: Andrzeja Sapkowskiego
Year: 2001
Genre: Fantasy Series
Length: 8 books
Don't like classic novels? Well these books are blowing up as Poland's hit fantasy series (which you've probably seen on Netflix as "The Witcher").
If you want to read a high-level Polish book that's just plain fun, these are a great time. You can even watch the Polish-dubbed Netflix series to compare and contrast the book with the show.
Just be warned that like many fantasy series, it can often be hard for language learners to figure out which new words are actually Polish and which are made up for the plot of the story.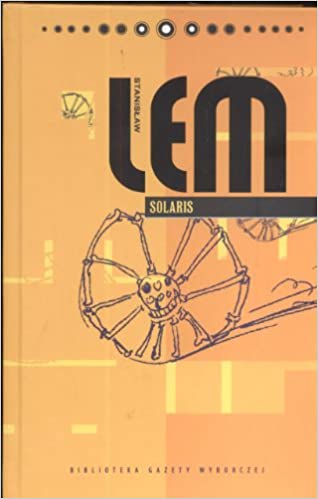 Author: Stanislaw Lem
Year: 1961
Genre: Science Fiction
Length: 224pg
This classic Polish science fiction novel might be best known to western audiences from it's 2002 adaptation staring George Clooney.
It's original attempts to imagine alien life (and the limits of human language) has made it an international classic translated into over a dozen languages since it's inception.
Unfortunately, this is another book that's hard to find in the original Polish–so when shopping, make sure you pay attention to the language of the version you're considering buying.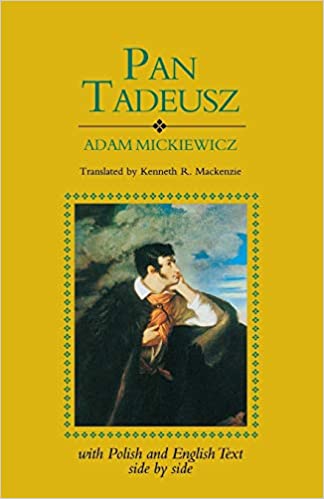 Author:  Adam Mickiewicz
Year: 1834
Genre: Epic Poem
Length: 618pg (bilingual edition)
The epic poem by the Polish poet, writer, and philosopher spans five days in 1811 and one day in 1812: the week Poland wad divided between Prussia, Russia, and Austria and removed from the map.
Just know that, outside of vocabulary, this poem is hard to keep up with for a lot of reasons. Consider buying the bilingual edition and plan on taking plenty of notes directly on the paper.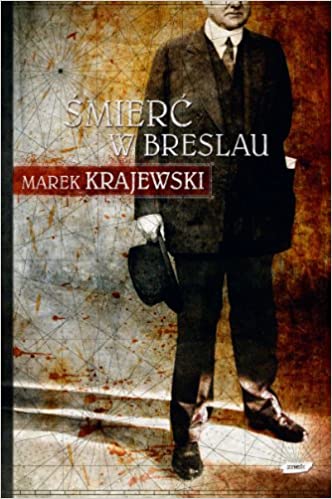 Author: Marek Krajewski
Year: 1999-2018 (Series) 
Genre: Crime Thriller
Length: 6 books, 250-400pg each
Eberhard Mock is a murder investigator of vicious and bizarre homicides in 1930's Breslau (now Wrocław), navigating alcoholism, political tensions, and underbelly crime.
The books drip with the blood of the dead (the author having consulted an array of forensic scientists during the process) but bring the noir city to life with extraordinarily detailed cityscapes.
Advanced Polish students will be in for a treat–not only are the books page-turners, but Krajewski is also a linguist. The books features local Polish dialects and plenty of language-nerdery, so while new words and speaking styles might be a challenge, it's a fun and rewarding read.
The title link will bring you to the first book in the series. The full series are:
Smierc w Breslau (Death in Breslau)
Koniec świata w Breslau (The End of the World in Breslau)
Widma w mieście Breslau (Phantoms in Breslau)
Festung Breslau (Fortress Breslau)
Dżuma w Breslau (Plague in Breslau)
Głowa Minotaura (The Minotaur's Head)
Mock. Ludzkie zoo (Mock: The Human Zoo)
Mock. Pojedynek (Mock: The Duel)
Author: Bolesław Prus
Year: 1890
Genre: Literary Classic
Length: 709pg
Lalka ("The Doll" in English) follows main character Stanisław Wokulski's obsession with upper-class Izabella Łęcka as their impossible affiar mingles with portraits of Polish aristocracy; inner-class conflicts with the newly budding bourgeoisie and proletariat; and friction with Poland's Jewish and German minorities.
One of the most celebrated classics in Polish literary history, it's often likened to Anna Karenina or Madame Bovary by fans of the genre. But because of it's length and time of publication, this novel is probably best for C2 Polish learning.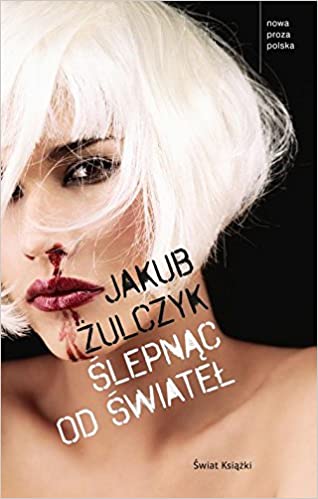 Author: Jakub Żulczyk
Year: 2013
Genre: Organized Crime
Length: 502pg
Based on the author's own experiences in Warsaw's nightlife scene, the series follows Jacek (a young drug dealer trying to secure a better life for himself) as he mules cocaine to the city's wealthy elite when things begin to spiral out of control one Christmas.
The book became an instant best-seller in Poland and was recently adapted into the HBO drama series "Blinded by the Lights" for English-speaking audiences.
How To Use Polish Books as Part of At-Home Language Immersion
Like I said in the introduction, Polish books are not only my own language learning goals but an amazing tool in helping me with that process.
If you're interested in creating a DIY at-home Polish language immersion, here are a few other tools you might like.
By combining all of these fantastic (and normally free) online resources, your language learning will not only be a lot easier but a lot more fun.
—
Do you know of any other Polish books (especially for beginners) that should be on this list?
Let me know in the comments so I can check them out and potentially add them!