23 French Books (for Beginners + Intermediate Students)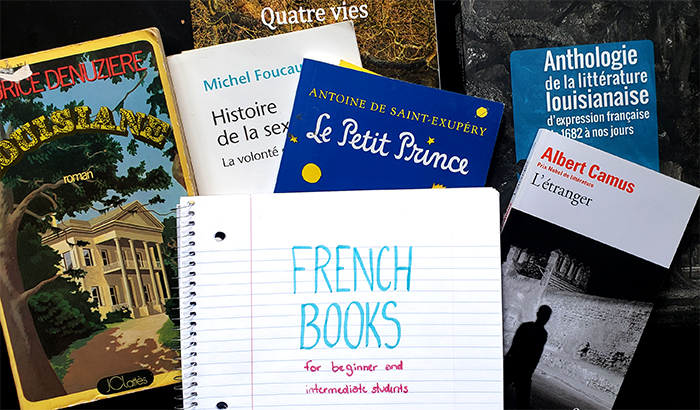 I'm a polyglot who is obsessed with French books–in fact, reading in French has always been my biggest motivator for improving the language!
Here's what you can expect to find on this list:
A guide for how students should pick their next book to read
A list of French books for beginner and intermediate students
Diverse voices from around the world (not just France)
Important language notes from me (a polyglot who has read the books)
Additional helpful information such as number of pages, country of origin, and links to the first page
I highly suggest reading the "start here" section so you can make sure you're setting yourself up for success, then reading through a good amount of the book list to build yourself a French reading plan.
This post contains affiliate links. I may earn a small commission for items purchased at no extra cost to you.
How to pick out your next favorite French book (START HERE)
When I followed most advice for reading in French (or how to read in any language) I had the same problems as most of the other French students I know:
I would either look up every word… or look up none. (And either was frustrating.)
I would get bored with books and quit them but wasn't sure why.
I was stuck reading the same classics as everyone else, but they weren't what I would have read in my own native language.
And after solving all of my own problems, I put together this list to make sure no one else repeats my mistakes!
Here's how you should use this blog post to make reading in French easier than ever.
Find the right book for your French level. You'll see this list is sorted in the Common European Framework so you can jump into the right section for you. (If you're an American student, just know that A1-A2 is your first 2 years of high school or your first year of university; B1-B2 is AP-level or junior year of university; and C1-C2 is university literature.)
Confirm that your school level is also your reading level. Grade inflation is real, and just because you have a certain grammar level doesn't mean your reading level is the same. The key is to check the front page. 2% or less of printed words on that page should be new to you. The rest should be familiar. (Trust me on this.)
Choose books strategically. Don't just read the book that you think is the "best" or "most important" at any given level. Find French books that you truly feel you will like. You'll be more motivated to continue through any frustration or confusion that way. (And I promise: every book on this list is amazing and important.)
French Books for Beginners (A1-A2)
This section is for students who have never read in French before but have some knowledge of the language. If you've never played with more than an app before you might find these a bit discouraging. If these are too hard for you, check out a textbook like Assimil or Teach Yourself French from the library and get used to the small dialogues in there first. (Although they won't be quite as fun as reading a real French book!)
Country: n/a • Genre: Short Stories / Travel non-fiction • Pages: 125 • First Page
Summary: This trilogy of fun adventures follows it's protagonist as she tries to learn French as an adult. Full of frustration and silly situations, French students will likely not only find it relatable but inspiring.
Follow along her diary entries, misadventures, and even French exercises as you discover French with her!
Reading Tips: Honestly, these books are a fantastic starting place if you've never read in French before. They'll start you with super, super basic sentences and bring you up to upper beginner. (That is, A1.1 – A2.2.)
If you read along with these as you're beginning to learn French, you'll have some fun language practice every week and reinforce the concepts you learn in class. (Which makes sense–they were written by a French teacher in Texas!) Plus, you have the bilingual English translations in back of the book if you get stuck, so you might want to buy the paper books so you can add notations.
Because it's also broken up into super-tiny diary entries, this is an awesome book for teachers trying to guide students through reading in a classroom.
You can find links to the first, second, and third books here.
Country: n/a • Genre: Short Stories • Pages: 252 • First Page
Summary: This collection of simple stories was made with French students in mind. Written entirely in the present tense with easy-to-follow plots, the entire "Short Stories by Olly" series is a good first attempt for students trying to break out of workbooks and into reading.
Reading Tips: The Short Stories by Olly books are really well known and features a lot of different genres of short stories, so I added it to the list to give you some variety at the A-levels since decent books are hard to find.
However, they're just translations from generic stories and aren't culturally-relevant to Francophone countries or regions, so just approach it as an exercise in reading in French. (I personally found them helpful but not at all interesting, unlike other stories on this list.)
French Reading Books for Lower Intermediate Students (B1)
This section is for French students who have already done some reading in French, likely in French books written especially for students, but aren't ready for a full novel yet. These French books should help bridge the gap between beginner-reader and advanced-reader, although it'll likely take some real work to do so!
Country: France 🇫🇷 / Canada 🇨🇦 • Genre: Short Stories • Pages: 96 • First Page
Summary: A traveler moves through the Sahara when he encounters a small child who demands the traveler draw him a sheep. This fantastic and surreal exploration of identity and adulthood was intended for children but has become a literary classic in over 200 languages for readers of all ages.
Reading Tips: Once you've warmed up with short stories made for readers, check out this bilingual reader. One of the great benefits of bilingual books is that you can see how expert translators make sense of French words or phrases that "have no translation", and grow your vocabulary in a seriously immersive way. (Plus, being able to follow plots in English will help you not have to look up every single word in French!) Just make sure to get the paper version for easier notetaking and referencing.
Country: USA 🇺🇸 • Genre: Historic Short Stories • Pages: 111 • First Page
Summary: Four generations of French speakers move through a garden in New Orleans with the backdrop of history playing out in the backgrounds of their four lives.
Reading Tips: You should at least have a general understanding of (1) the colonization of the US (2) the Louisana Purchase and (3) Hurricane Katrina in order to fully understand this book.
This book was made for English speakers in mind, but specialized vocabulary like oak trees or marble railing make it a hair harder than the short story collections higher up on this list. However, it's really worth the read: unlike the other short stories it's the most tied to Francophone history and will be a great first read for readers looking to deepen their understanding of French history outside of France.
(TW: racism, state violence, natural disasters)
Country: France 🇫🇷 • Genre: Fantasy / Illustrated• Pages: 214 • First Page
Summary: A traveler moves through the Sahara when he encounters a small child who demands the traveler draw him a sheep. This fantastic and surreal exploration of identity and adulthood was intended for children but has become a literary classic in over 200 languages for readers of all ages.
Reading Tips: Le Petit Prince is one of the most-recommended beginner books by polyglots to new language learners. It's an extremely pretty, imaginative read—and reading it in its original language is a treat. Just be prepared to look up a few keywords when you're starting to make reading it much easier, although the illustrations will help with context a lot.
Country: France 🇫🇷 / Ireland 🇮🇪 • Genre: Play / Existentialism•  Pages: 368 (bilingual edition) • First Page
Summary: In one of the most significant plays of the 20th century, two characters wait by a leafless tree in anticipation of Godot… who never arrives.
Reading Tips: If you love literature and philosophy, En Attendant Godot ("Waiting for Godot" in English) will be a simple way to help train yourself away from children's books and graded readers and into adult novels. To read adult books in French you'll need not only a higher level of language but also higher stamina for reading in French–so plays are a great way to start. En Attendant Godot is an existential classic for people who (like me) are excited to read more international classics in their original language. (The version linked in the title is bilingual, written originally in French by Beckett and then translated into English by the playwright himself.) However, if you're not a real fan of literature or philosophy, this might not be the play for you.
Country: Martinique 🇲🇶 • Genre: Play • Pages: 91 • First Page
Summary: A post-colonial reimagining of Shakespeare's The Tempest puts the island's original inhabitants at the heart of this story.
Reading Tips: If you've never read The Tempest, or need a refreshing, check out any of the many dramatized or staged versions of it. (And if you're not a confident reader in English, the No Fear Shakespeare version will help you out.)
(TW: slavery)
Reading in French for Upper Intermediate Learners (B2)
This section is for French learners moving away into novels for the first time. Reading novels is way harder than it seems, so if these are difficult don't get discouraged! Hopefully these will help you advance into the next level of French literature if that's your goal.
Country: Haiti 🇭🇹 / Canada 🇨🇦 • Genre: Prose • Pages: 226 • First Page
Summary: The author invites readers to explore the warmth and color of Petit-Goâve, Haiti, where he spent his childhood. Full of love and magic, he recounts stories from the feet of his grandmother and the ever-present smell of her coffee.
Reading Tips: Haitian-born Canadian writer Dany Laferrière is one of the most important contemporary writers in either country. A former journalist who now serves on the international Académie Française, he is not only one of the central-most authorities on the language but an integral part of how the language is shaped going into the future.
These short prose are written in bite-size chunks and would make for a great one-month reading challenge (for all of my fellow habit trackers out there) but also an amazing resource to work on with a teacher.
Country: Uashat / Canada 🇨🇦 • Genre: First Nation Contemporary Fiction • Pages: 119 • First Page
Summary: A French teacher working at the Innu land in northern Quebec tells a story of her students' struggle and hope in this open and accessible novel.
Reading Tips: Manikanetish tells the story of an Indigenous woman returning to her home to begin her career as a teacher. The book is not only slim, but broken up into mini-chapters 1-6 pages each. Each of these sections tells it's own story through prose and fragments of dialogue. The descriptive vocabulary is challenging, but because it's broken up into so many individual parts a student trying to transition from short stories into larger novels will find it a great tool for intensive reading.
Consider reading 1-3 passages at a time, looking up all of the words, studying the words, and finally rereading them for a fuller picture.
This is an absolute must-read if you want to really feel how diverse the speakers of French are. Naomi Fontaine is a writer from the Innu Nation, the people whose land is currently occupied by Canadian Quebec. Her novels have won several awards, making her one of the most prominent French-speaking First Nation writers of today. (It'll be an especially nice read for language learners and lovers.)
(TW: colonial schooling of Indigenous people)
Country: France 🇫🇷 • Genre: Prose • Pages: n/a • First Page
Summary: Maurice Leblanc is often credited for two things: first, being the French Agatha Christie (that is, THE most beloved mystery writer). Second, writing the iconic character Arsène Lupin, who was not only the original inspiration for the Pink Panther, but the historic nemesis of Sherlock Homes. Always the gentlemen, Lupin is the villain readers over 100 years later still cheer for–and who is often referenced in French media and conversation.
Reading Tips: There are a lot of stories in the linked-to anthology but don't get overwhelmed. Start with the first story which introduced Lupin to the French public: Arsène Lupin, gentleman-cambrioleur. After that, head over to Lupin contre Sherlock Homes for a super fun cross-over (yes, written by the real author.) Nearly all of them have various audiobook adaptations since they're in the public domain, so feel free to see if you can find some free ones online if you want to try reading and listening at the same time.
Country: France 🇫🇷 / Algeria 🇩🇿 • Genre: Existentialism • Pages: 185 • First Page
Summary: After the death of his mother, Meursault moves through his daily life with little regard to anything around him–his work, his lover, or even his confinement in prison for the murder of another man.
Reading Tips: L'etranger is a French classic and is the most-recommended novel to French students by teachers, so I had to put it on this list. What's nice is that it's in the present tense and the plot is incredibly easy to follow.
But it's not for everyone. I warn readers that they should be fans of philosophy and literature in order to get anything out of this one, but again: it's slow plot, present tense, and simple vocabulary make it an easy first novel to attempt.
Country: Algeria 🇩🇿 • Genre: Existentialism • Pages: 160 • First Page
Summary: "The Arab" in L'estranger is an unknown man central to the plot. But as Algerian writer Kamel Daoud explains in an LA Times book review: "the white man has the habit of naming Africa and Asia's mountains and insects, all the while denying the names of the human beings they encounter." [source] This is the story of Camus's Arab: a man named Musa with his own story to tell.
Reading Tips: Make sure you're familiar with not only L'etranger but it's place in modern French culture and the relationship between France and Algeria to understand this book fully. (And pay attention to which edition you're purchasing. The link in the title is to a fully French version, but the English versions outsell and out-rank the French ones on Amazon. There are also some official books by the author which are noes and critiques but not the book itself.)
Country: France 🇫🇷 • Genre: Classic Short Stories • Pages: 636 • First Page
Summary: Do you dream of reading Voltaire in a Parisian cafe, or Balzac on the French Riviera? This collection of short stories written by the giants of French literature helps French students deepen not only their vocabulary but their understanding of the language's history and structure.
Reading Tips: This bilingual reader isn't for early beginners–it's for French students who already have reading experience but are looking to ease themselves into real French literature. This book is a great stepping stone for many of the more classic French books in the next section.
French Books for Advanced Level Students (C1-C2)
This section is for French books with difficult language or who's main points are difficult to follow because of the style. At this point, readers should be comfortable reading in French to a certain degree–although they won't be expected to be native-like for these books.
Country: Senegal 🇸🇳 / France 🇫🇷 • Genre: Contemporary Fiction • Pages: 254 • First Page
Summary: Salie lives in France, and her brother dreams of joining her there one day. How can she navigate the weight of his dreams–of living in a northern promised land where Senegalese refugees find paradise as football payers–with the reality of what happens to African immigrants as they cross the sea? This contemporary novel explores not only the relationship between two continents but the daily lives and dreams of the people who move across them.
Reading Tips: Enjoy the style of this one. Diome mixed French literary tradition and the oral traditions of Africa on top of exploring the mixture of cultures on the two continents she calls home.
(TW: systematic violence and racism)
Country: Belgium 🇧🇪 • Genre: Thriller • Pages: 221 • First Page
Summary: The shocking, morbid tale follows Pretextat Tach, a brilliant Nobel Prize-winning author who's also an obese, embittered, reclusive, racist, and sexist old man dying of a rare form of cancer. When the world learns Tach has only months left to live, journalists scramble for an interview. Five are selected, and the first four leave their interviews humiliated by the offensive author. But then the fifth journalist arrives. Unlike the others, Nina has not only read Tach's work but also investigated his life, discovering appalling secrets the author had thought were buried forever.
Reading Tips: Hygiene de l'assassin was the first book by beloved Belge author Amélie Nothomb. If you're a bit tired of haughty French literature, this is a fun read. There have also been several theatre adaptations, an opera, and a movie made of it, so if you want to do a little bonus emersion see you can track some down online. (The links are too unstable to include in this article, but they pop up every now and again!)
Country: France 🇫🇷 • Genre: Autobiographic • Pages: 208 • First Page
Summary: This autobiographical retelling of the author's life became an instant bestseller in France and in over 20 other countries. At the intersection of the working class and LGBT+ struggles, it offers a compelling story that doesn't shy away from today's political taboos.
Reading Tips: This book is awesome for French learners who struggle to understand both sentences that are too slang-filled and sentences that are too formal. It's written really vernacularly, but with plenty of elegant phrases, so make sure you take note of some great new expressions you'll pick up. (This is a great one for students who want to read how people in today's day really speak on the streets and in real life.)
(TW: alcoholism, abuse)
Country: France 🇫🇷 • Genre: Edwardian Romance • Pages: 185 • First Page
Summary: Full of lust, love, scandal, and opium dens, to summarize Chéri as a romance novel doesn't do it justice. Based on some semi-autobiographical events in Colette's own life, the pre-war opulence of the French bourgeois is glaring, harsh, and delightful.
Reading Tips: The French version of this book can be harder to find than the English version, especially since they have the same title, so make sure you check your edition language. However, because it's relatively short, it's a nice first novel once you've exhausted the B2 list. The language is a bit tricky, but it's a great one. (And if you want to keep reading, check out Le Fin de Chérie for a post-war sequel that I think history buffs will like more than the first.)
(TW: drug use)
Country: France 🇫🇷 • Genre: Thriller / Naturalism • Pages: 101 • First Page
Summary: This autobiographical retelling of the author's life became an instant bestseller in France and in over 20 other countries. At the intersection of the working class and LGBT+ struggles, it offers a compelling story that doesn't shy away from today's political taboos.
Reading Tips: This is one of those French books that is important in the country's literary tradition, but isn't as widely read in high schools outside of literacy programs. Because of that, there are a number of plays, TV series, and film adaptations that you might want to watch first. (This way you'll have an understanding of the plots and "personalities", as Zola put it, so you can concentrate more on the language and details when reading.) Zola was a friend of Cézanne and contemporary of Balzac, so Francophiles who adore French history should dive into this one.
Country: France 🇫🇷 • Genre: Philosophy / Non-Fiction • Pages: 221, 234, 334 •  First Page
Summary: In this French philosophic classic, Michel Foucault explores the roots of our modern sexuality–one which he believes is still firmly rooted in Victorian modesty and encased in fear and politics. The series takes on topics of sexual deviancy (such as the LGBT+ communities), the national policies around sex and sexuality, and even broader topics such as what "normal" really means.
Reading Tips: There are 3 books in the original series: La volonté de savoir, L'usage des plaisirs, and Le souci de soi. (There is also a fourth book, but it's generally not considered part of the original 3.) The cover featured here is the first book, if you want to read the full L'historie de la sexualité be prepared to buy or rent all three. (As for the language, the individual words aren't that hard–but following the many concepts and sometimes meandering narrative can be tough, so be prepared to take notes or use a graphic organizer.)
Country: Canada 🇨🇦 / USA 🇺🇸 • Genre: History / Non-Fiction • Pages: • First Page
Summary: Sure you've heard of the famously French-speaking Quebecois… but what about the other Francophone groups of North America? L'histoire des Acadiens is a detailed and moving recounting of the massacres, forced migrations, and life stories of the Acadian people–all the way from New Brunswick Canada to 'Cajun New Orleans.
Reading Tips: You should be at least somewhat familiar with the history of Canada and the US to read this. (European readers might find themselves struggling to place certain dates within the context of things like the colonization of the Americas and American Revolution.) But if you're like me and have a real love for the many variates of American French, this is a must-read.
Country: USA 🇺🇸 • Genre: Literary Anthology • Pages: • First Page
Summary: Who were the French people who settled in Louisiana? How did they live? What did they think? In this anthology, unlike any other compiled in French, readers can explore letters, poetry, songs, and prose about the Francophone American South–from 1682 to today.
Reading Tips: Like many anthologies, reading this cover-to-cover will be a challenge. I highly recommend this book for teachers looking for super unique material for upper-level students, as well as true language-lovers who really want to get to know a whole new side of French.
Just be warned that not only is much of this anthology a very old French, but it largely exists outside of standardized language–so for even advanced students, it will likely feel very foreign. (However, for polyglots or people who want to venture into older French works, you'll find the language and spelling super super interesting and hopefully not too hard.)
(TW: colonialization of Indigenous people)
Country: Martinique 🇲🇶 • Genre: Historic Fiction • Pages: 497 • First Page
Summary: This epic tale follows it's protagonist and setting, the neighborhood of Texaco, through a century and a half of racial struggle, creole fables, colonial bitterness, and pure joy.
Reading Tips: If you're unfamiliar with the history of Martinique, take note of the mini-history lesson offered at the beginning of this book (or read up on Wikipedia). Since this novel takes place over 150 years, you may also want to take additional notes on specific locations, the relationships and lineage between characters, or historic notes throughout the book. (There's nothing wrong with note-taking when reading! It doesn't make you a bad reader–but a strategic one!)
(TW: slavery, brutality.)
Country: Lebanon 🇱🇧 • Genre: Historic Fiction • Pages: 368 • First Page
Summary: In this ancient story, Francophone literary master Amin Maalouf imagines the life of Persian philosopher, scientist, and poet Omar Khayyám in the 11th Century. Readers will be transported back in time through rich descriptions and bold characters.
Reading Tips: Amin Maalouf is another one of the members of l'Académie Français on this list, making him an international authority on the French language. This story from le Moyen-Orient is yet another reminder that the French language does not belong exclusively to French European citizens.
Additional Tips on Reading in French Books
Now as I said before, this list isn't some random assortment of Amazon affiliate links–these are books I have read. (And if I haven't, they were recommended to me by friends who also study French.)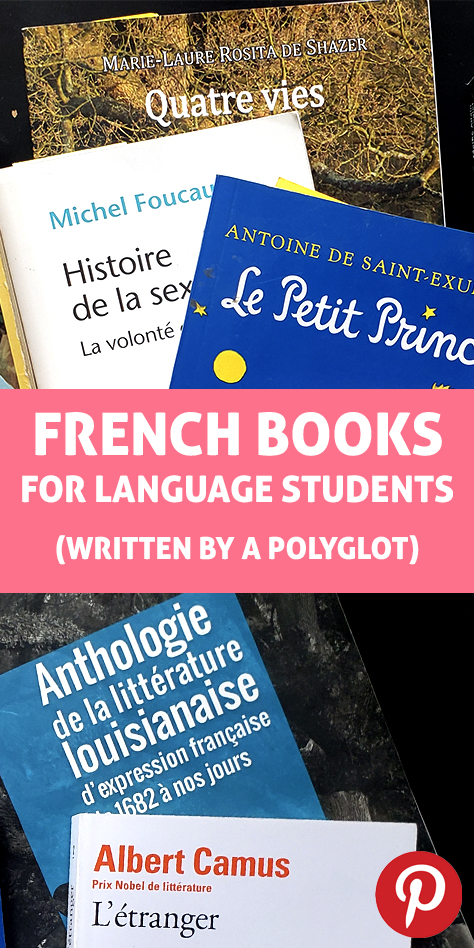 French is by far my favorite language to read in, but before you hit any "order now" button, I want to leave you with a few words of advice for how to read French books from a student perspective.
Be mindful of tense. Books that are written in the present tense are perfect for beginners–but the overwhelming majority are written in some mix of tenses. On top of checking the first page for vocabulary, make sure you're familiar with the tense that it's written in.
Familiarize yourself with the French literary tense. If no one has told you by now, French used to be spoken in the simple past tense–a tense which is no longer used, but still reigns supreme in literature. Make sure you familiarize yourself a little bit with it if you haven't already (although speakers of other Latin languages won't find it too tricky.)
Consider starting at a level lower than you're currently at. Grade inflation is real! I was at the cusp of French B2 in group classes, only to find myself repeating A2 themes once I hit private classes. My level ranking here is more strict tot he CEFR definitions than most classes are, so really make sure you're comfortable with the first page (and not just optimistic like I once was).
Build a habit. Want to really improve your French? Download my free habit trackers here, which can be used for any language in a variety of creative ways.
Do you know of any other French books which should be included on this list? Leave them in the comments for consideration!