34 Famous French Songs (A Guide to the 1500's-2022)
If you've ever watched a classic movie or contemporary TV show, you've heard dozens of famous French songs on the soundtrack.
But what makes French music so distinct?
Why are classic French songs so famous but normally so unknown?
First, this article will give you a quick beginner's guide to French music history.
Second, we'll let you listen to different famous French songs in a variety of time periods and genres.
Finally, we'll tell you how you can use famous French songs to actually learn the French language.
Allons-y !
Browse Famous French Songs by Musical Period
French Music History (Crash Course)
Before Medieval France, we have little documentation of what kind of music people might have made in that little corner of Europe. From the hunter-gatherers who settled the region through the fall of the Roman Empire, all we can do is guess.
But as the Rennaisance stoked life back into Europe and countries like France, Spain, English and Portugal began to expand to other parts of the world, French music as we know it came to life.
The Baroque Period
When we think of classical music we often think of German Beethoven or Polish Chopin. But most of these important Classical Era composers were farther north of anything happening in France. It wasn't until around 100 years later that the heart of European music moved a bit farther south.
Opera, The Romantics, and Impressionists
This is where our famous French songs list really begins. Around the time of Manet's Luncheon on the Grass or Monet's water lilies, you see French opera begin to bloom.
To the untrained ear, there might not be much difference between this period and the work of Motzart, but you can think of it as more energetic and spontaneous. (And often, arranged on much fewer instruments so it could be transported between opera houses.)
The Cancan, Cabaret, and the New Music of France
Eventually, the more classical-sounding French operas were brought into cabaret clubs for Quadrangle group dances (think: country line dancing); the Can-Can (scandalous, bordering on obscene); and even the Waltz (full-on body contact? No one tell the church.)
What we now think of as classical, elegant French music was transforming into something more popular, more energetic, and something that could be performed by much smaller groups.
Le Chanson Français
As the specter of The Great War hangs over Europe, a new time of French music emerges. It's as beautiful as everything that came before it. But composers and singers are performing in tiny clubs where they're meeting American jazz legends.
La Chanson Français, the most iconic of all French music genres, is born.
The Birth of French Pop
But nothing is forever. The British Invasion not only sweeps the US but also continental Europe. Rockabilly and hippy pop flood French airwaves, but mix in with sounds that are uniquely French.
Punk Rock, Techno, and Becoming Europe's Rap Capital
The famous French songs of today?
Thanks to the Toubon Law mandating that at least 40% of all songs played on French radio are in the French language, you still hear distinctly Frenchy-sounds in everything from home-grown punk rock to gangster rap.
But thanks to globalization, there are also French-language musicians from Canada to Francophone Africa creating amazing hits that mix their own cultures' sounds in with Parisian undertones.
Take a listen. You'll be surprised.
Famous Classical French Songs
1. Belle qui tiens ma vie (Thoinot Arbeau)
Country: France 🇫🇷
Year: 1519-1595
Artist tags: Late Medieval, Renaissance 
We'll start our list of famous French songs with one of the most well-known Medieval compositions from the region. Arranged for four voices, it tells the story of "l'amour courtois": the respectful, courteous courtship between a nobleman and a good (female) friend.
2. Orphée aux Enfers (Offenbach)
Country: France 🇫🇷
Year: 1858
Artist tags: Opera, Rococo 
This song needs no introduction–but an explanation might be nice.
Originally written as part of the satirical opera Orpheus in the Underworld, this over-the-top Rococo scoring was associated entirely with its namesake opera…. for about 40 years.
Then, this specific piece ("Galop infernal") was picked up by the Molin Rouge ina round 1890 for it's scandalous cancan dance: and we've associated it with that entertainment genre ever since.
3. Votre toast, je peux vous le rendre or "Toreador Song" (Georges Bizet)
Country: France 🇫🇷
Year: 1875
Artist tags: Opera, Realism
The "Toreador Song" is the most well-known piece from Carmen, which in turn is one of the best-known pieces of French opera. In this act, the bull fighter enters the ring singing as the crowd behind him cheers him to victory.
(You also probably know Bizet from Habanera, but we wanted to only add one famous French song per composer on this list.)
4. Duo des fleurs / Sous le dôme épais (Delibes)
Country: France 🇫🇷
Year: 1883
Artist tags: Opera, Barroque 
From British Airways ads to episodes of Modern Family and The Simpsons, "The Flower Duet" is yet another French opera classic that has been countlessly reused and reimagined over the 200+ years since it's debut in the Parisian opera Lakme.
5. Clair de Lune (Debussy)
Country: France 🇫🇷
Year: 1885
Artist tags: Impressionism 
You almost certainly already know this song. Debussy is the composer of some of the most famous French songs of all time and was a contemporary to Monet, Manet, and many of the French impressionists. 
6. Gymnopedie No. 1 (Erik Satie)
Country: France 🇫🇷
Year: 1888
Artist tags: Ambient, Impressionism 
This three piano competition has been used by contemporary musicians like Janet Jackson and Lana Dey Rey; TV shows like How I Met Your Mother and Star Trek: Next Generations, and dozens of films including Wes Anderson's The Royal Tenenbaums and Woody Allen's Another Woman.
7. Sicilienne (Gabriel Fauré)
Country: France 🇫🇷
Year: 1893
Artist tags: Romanticism, Modernism 
Gabriel Fauré's music isn't as well known as other songs on this list, but he's credited with two major things. First, he was the one who set Clair de Lune (above) to a piano: and if you had a cell phone in the early 2000s, his composition was probably your ring tone.
Second, he was one of the last classic French composers whose style and innovations greatly influenced the next generation of famous French songs on this list.
Le Chanson Français (The Most Famous French Music Genre of All Time)
8. Parlez Moi D'amour (Lucienne Boyer)
Country: France 🇫🇷
Year: 1930
Artist tags: le chanson français 
Parlez Moi D'amore was the signature song of French-born 1920's Broadway star Lucienne Boyer.
Recorded under Columbia Records France, it remained popular through the Second World War, notably used in the 1942 classic Casa Blanca and again in 2011 with Woody Allen's Midnight in Paris.
9. La java bleue (Frehel)
Country: France 🇫🇷
Year: 1939
Artist tags: cabaret, le chanson français
Frehel (born Marguerite Boulc'h) was one of most well-known French singers in the inter-war period. La java bleue was originally written 1938, but found fame when it was interpreted by the songstress a year later (who had just recently been signed to Columbia Records) and became one of her best-known songs.
10. J'ai Deux Amours (Josephine Baker)
Country: France 🇫🇷 / the US 🇺🇸
Year: 1953
Artist tags: jazz, cabaret, le chanson françai 
Josephine Baker was the American-born Parisian sensation of the 20th Century.
At a time where she wouldn't have been allowed to play most large music venues in the US, she became not only a French citizen but one of the most iconic figures of jazz in Europe. (And, we should mention: a Nazi-fighting, civil rights activist between the two continents!)
11. La mer (Charles Trenet)
Country: France 🇫🇷
Year: 1946
Artist tags: jazz, le chanson français
Sound familiar?
Originally based on a pre-war poem written by the artist (and recorded for the first time right before the end of WWII), La mer has been featured in the films French Kiss (1995), Mr. Bean's Holiday (2007), The Diving Bell and the Butterfly (2007), Tinker Tailor Soldier Spy (2011), the Nine Inch Nail's 1999 album The Fragile, the 2008 release of videogame Bioshock, the first season of the X-Files, a 2010 Simpson's Episode.
12. C'est si bon (Eartha Kitt)
Country: France 🇫🇷 / the US 🇺🇸
Year: 1953
Artist tags: jazz, cabaret
C'est si bon was originally composed and recorded in 1947 but became one of the trademark hits of American Jazz singer Eartha Kitt a few years later. Kitt spoke at least four languages (English, French, German, and Dutch) with recordings in many others, and is one of the Anglophone artists on this list who's work spurred off their own unique famous French songs.
13. Ne me quitte pas (Jacques Brel)
Country: Belgium 🇧🇪
Year: 1959
Artist tags: pop, le chanson français
Jacques Brel is sometimes regarded as the "Master" of le chançon, with his songs covered by everyone from David Bowie to Nina Simone to even John Denver. Ne me quitte pas was originally written, as he put it, as "a hymn to the cowardice of men" after his mistress of the time left him due to his own actions.
It was later covered by French super-start Johnny Hallyday in 1984 (who you'll see later on this list) and enjoyed a second wave of francophone fame.
14. Non, Je ne regrette rien (Edith Piaf)
Country: France 🇫🇷
Year: 1961
Artist tags: cabaret, le chanson français
Piaf ("Sparrow", a nickname given to her as a performer) was one of the artists to come out of WWI and rose to be one of the country's most famed artists.
Performing throughout the German occupation of her country, she eventually toured Europe, the US, and even South America after the wars.
"Non, je ne regrette rein" was first debuted in 1961 in a fundraiser to save the venue where she was discovered (the Paris Olympia) from bankruptcy. The venue stands to this day, and the smash hit, in turn, became one of the most famous French songs of all time.
15. Le Festin (Ratatouille)
Country: n/a
Year: 2007
Artist tags: movie soundtrack 
Before we continue further into this list (and further into French music history), I wanted to add this song as a bonus for this part of the list.
La chanson français is French music history. But it is also such an iconic music genre that you're going to find it referenced, sampled, integrated, and loved in nearly every other French music genre that followed it–from Disney soundtracks to contemporary French rap.
Famous French Songs from 1960-2010
16. Je te promets (Johnny Hallyday)
Country: France 🇫🇷
Year: 1986
Artist tags: rockabilly, classic rock, power ballads, hard rock 
We'll start off the list of modern French songs with Johnny Hallyday: the French artist of the 20th century. 
Je te promets is probably his most famous original song, but with a career spanning decades and hundreds of songs. (If you speak French and like French podcasts, I suggest you take a listen to the InnerFrench episode to understand the serious impact of his career on French music as a whole.)
17. Tous les garçons et les filles (Françoise Hardy)
Country: France 🇫🇷
Year: 1962
Artist tags:  yé-yé, le chanson français, pop
As the pop explosion tore through the UK and North America, it fused with le chanson français to form a distinct sound: yé-yé (after the famous Beatle's refrain: "yeah! yeah!"). The song tells the story of a young woman who's never felt love but watches the couples around her: a mix of drama of le chanson but with a new, poppy-tempo introduced for the first time in French music.
18. Je t´aime... moi non plus (Serge Gainbourg)
Country: France 🇫🇷
Year: 1967 / 169
Artist tags: pop, le chanson français
This famous French duet reached #1 on the UK charts and #2 in Ireland, but was famously banned in several European countries because of it's overt sexual content. (To this day, the original video has a YouTube content warning.)
But that's not even the biggest scandle.
The song was written and recorded in late 1967 for Gainsbourg's girlfriend, Brigitte Bardot. She asked him to write the most beautiful love song he could imagine and that night he wrote "Je t'aime".
The only problem? News of the recording reached not only the press and Bardot's husband at the time. The German businessman Gunter Sachs ask that it not be published, and Gainsbourg agreed.
Two years later, he eventually re-recorded it with English actress Jane Birkin (his then-girlfriend) and finally released the track.
19. La poupée qui fait non (Michel Polnareff)
Country: France 🇫🇷
Year: 1969
Artist tags:  yé-yé, le chanson français, pop
By the end of the 60s, French pop artists began moving away from the historic chanson and into new, more-contemporary sounds.
For the studio recording of La poupée qui fait no, producers even brought in a young English guitarist to play on the track and bring on a stronger touch British pop: the then-unknown Jimmy Paige.
After its initial release, the song was covered by Jimmy Hendrix, Johnny Hallyday, and The Birds. (So if the lyrics don't sound familiar, the English or instrumental versions still might!)
20. Les Champs Elysees (Joe Dassin)
Country:  France 🇫🇷
Year: 1969
Artist tags: pop, yé-yé
This song was originally written in English under the title "Waterloo Road" and played by the British Band Jason Crest–a telling sign that French music was moving more and more towards classically Anglophone sounds. But unlike the original English version, it was only the French adaptation that ever made it onto European charts by peaking in the #1 spot in France and #5 in francophone Switzerland.
21. Pour Un Flirt (Michel Delpech)
Country: France 🇫🇷
Year: 1971
Artist tags: classic rock, pop 
Pour un flirt was one of the first French pop songs to make waves abroad, landing in the #1 spot on the charts in both Belgium and the Netherlands as well as France. 
22. Ça plane pour moi (Plastic Bertrand)
Country: France 🇫🇷
Year: 1978
Artist tags: pop, classic rock
You've probably heard this famous French song over and over again over the years, but might not know who wrote it.
Ça plane pour moi was by far the biggest hit of French pop band Plastic Bertrand, but their entire discography is worth checking out. (It's honestly all fantastic.)
23. Pour que tu m'aimes encore (Céline Dion)
Country: Canada 🇨🇦
Year: 1995
Artist tags: pop, soft rock
While Céline Dion found fame with American audiences through her Titanic ballads (pun intended), Anglophone audiences might not realize that she only learned English as an adult to further her already-successful French music career.
In France, Pour que tu m'aimes encore topped the singles chart in France for 12 weeks; sold one million copies (platinum award); became 1995's best-selling single; and 1995's number-one airplay song.
In Belgium, it spent 15 weeks at the top of the charts and was certified platinum; in Switzerland, it peaked at number 17 after a run of several weeks; and in her Canadian home providence of Quebec, it was on the charts for 4 weeks. 
The single sold more than 4,000,000 copies, worldwide. Céline would often claim this was her most famous French song (and even did an English cover the following year for Anglo audiences).
24. J't'emmène au vent (Louise Attaque)
Country: France 🇫🇷
Year: 1997
Artist tags: 90s, folk 
90s French rock band Louise Attaque entered the francophone music scene with grungy folk rock and put out three albums during their late 90s / early 2000s reign. Although it didn't have the same success on the charts as more mainstream pop hits on this list, fans of North American grunge will probably find this Frenchy-spin on the genre a lot of fun.
25. J'ai demandé à la lune (Indochine)
Country: France 🇫🇷
Year: 2002
Artist tags: new wave, pop rock
Indochine was formed in Paris in 1981 and found massive international fame throughout the world during the 80s and early 90s.
But after a slump in their career, J'ai demandé à la lune sprinted up to the #1 position on both Belgian and French charts. By 2010, after nearly 30 years of a career, they played at the mega-venue Stade de France to a sold-out show of 80,000 attendees. The band is now teasing fans with not only new music and tours for 2022 but a 40th-anniversary film.
Famous French Songs 2010-Today
26. Alors On Danse (Stromae)
Country: Belgium 🇧🇪
Year: 2010
Artist tags: pop, dance, hip-hop, rap
Stromae might be the most popular Francophone rapper of all times, and Alors on Danse is probably the most famous French pop song. Not only has it topped radio charts around the world, but it's appeared on a handful of Hollywood movie and TV soundtracks over the past few years.
27. Dernière Danse (Indila)
Country: France 🇫🇷
Year: 2013
Artist tags: Ballads, pop
When I visited Paris in 2019, several years after this famous French song blew up, it was still constantly playing in cafes, taxis, and caberets.
Indila clearly borrows from many parts of French music history, from Chanson Français to 20th century rock, but her poppy rhythms have made this one of the most popular songs in France of the past 10 years.
Country: France 🇫🇷 / Mauritius 🇲🇺
Year: 2015 
Artist tags: Hip hop, dance, pop, reggaeton
You know that J Balvis song Mi Gente? Willy William was the French singer on the track. Ego is the singer's most famous solo song, and I highly recommend hip hop fans dive deeper into his discography for plenty of musical treature.
Country: France 🇫🇷
Year: 2018
Artist tags: Disco, electronica, classic rock, 90s pop
Singer Matthieu Chedid's super disco-infused pop-rock electronica blew up at the end of the 90s through the 2010s. Superchérie is probably the most famous French song by the artist but like many songs on this list is heavily influenced by the French music that came before it.
30. Demain (Bigflo & Oli)
Country: France 🇫🇷
Year: 2018
Artist tags: tropical, chill, hip hop
The famous French songs of the future may very well be in the hands of Soundcloud rappers and their fans.
Bigflo & Oli are Soundcloud-rappers-turned-superstars who first came to public attention a few years ago when the chill house/tropical hip hop genre first surfaced online. Just like reality TV singing shows brought us numerous hits in the 2000s and 2010s, independent music platforms like Bootcamp (or even Spotify) may be where French musicians first need to get their food in the doors.
Country: Belgium 🇧🇪
Year: 2019
Artist tags: electronica, rap
Angèle and her brother Roméo Elvis (below) are Belge rappers and musicians who have blown up in the past few years.
Her songs particularly borrow more from famous French genres of the past (most notably Canson Français) making her work feel very much part of a larger musical tradition.
Country: Belgium 🇧🇪
Year: 2019
Artist tags: rap, hip hop
Roméo Elvis (and Angèla both) are the most iconic French musicians of the moment. As I mentioned above they're siblings, but also the children of well-known musician Marka and comedian Laurence Bibot.
As French rap continues to rise, musicians from all over the world (and not just France) are rising with it.
33. Candide Crush (Therapie TAXI)
Country: France 🇫🇷
Year: 2020
Artist tags: pop, techno, disco 
The most famous song by French pop group Therapie TAXI is their most recent hit. In Europe, where a more pure pop music is still going strong (unlike in North America), bands like Therapie TAXI continue to stay singing on the charts.
34. Dilemme (Lous and the Yakuza)
Country: Congo 🇨🇩 / Belgium 🇧🇪
Year: 2019
Artist tags: dance, hip hop, chill
The songwriter, model, and visual artist known as Lous and the Yakuza (born Marie-Pierra Kakoma) has turned out an incredible amount of creative work and is one of the many French musical artists born outside of France but breathing new life into the tradition.
Country: France 🇫🇷/ Algeria 🇩🇿
Year: 2022
Artist tags: pop, hip hop, rap
We'll close our list of famous French songs here. 5x Platnum artist Naps has had his latest hit, La Kiffance, on French charts steadily since 2021. At the same time, Naps went on to release a new album Best Life which joined La Kiffance on the charts in not only France but Belgium and Switzerland as well.
Using Famous French Songs for Language Learning
If you're interested in learning French (or are currently learning it) immersion is an amazing way to enjoy the learning process and improve your skills.
The best way to use famous French songs as part of that process is:
Use a habit tracker to make sure you're consistent. You can access our free language immersion mini-course here.
Make yourself a playlist you love. If you're motivated by amazing music, you're likely to stick with language learning (and listen to the songs over and over again).
Once a week, sit down and translate some lyrics. Once you have a feeling for the playlist, sit down and translates the French song lyrics into English. Listen along with the music and get a feel for which word means what.
Listen to the playlist over and over again. Stick with the same playlist for a few months and use the songs like French language flashcards!
Bon courage!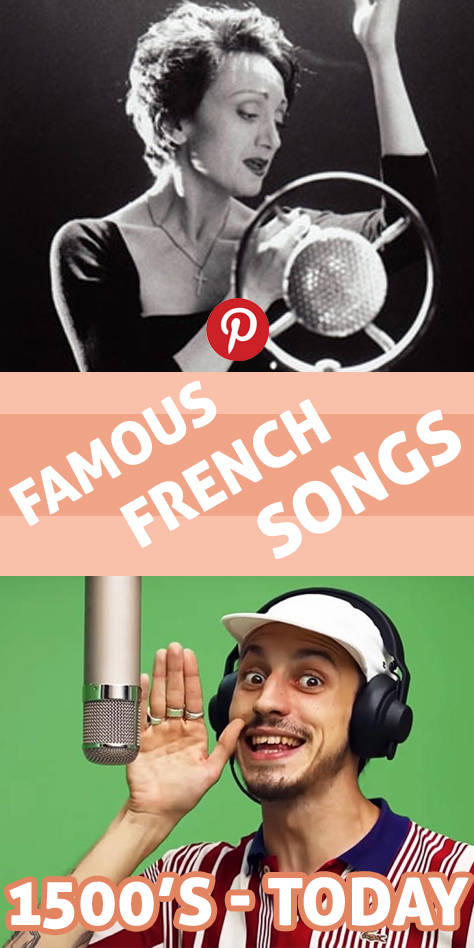 Did we miss any famous French songs that should have been on this list? Let us know in the comments!