22 French Podcasts for Language Learners (2022)
French podcasts have been my secret weapon in language learning.
So in this article, I created a list of the best French podcasts which I myself listen to and recommend to my friends.
I'll also give you all of the notes you need to use each podcast for learning French (such as where to find transcripts or what dialect you can expect them to speak in) and have organized the entire thing by language level.
Finally, I'll be updating this list every 6 months or so, so save this page to revisit it in the future when you're looking for new French podcast recommendations!
Why I Use French Podcasts for Learning
Unless you're lucky enough to live and study French in a francophone country, you have to get creative with making your own French immersion happen.
But often people turn to shows and movies as their go-to resource!
The reasons I think podcasts are far superior to things like Netflix or language apps are:
You can find the perfect French podcast for your specific learning level and actually understand what they're saying.
You can revisit each episode with a transcript to help you along.
French podcasts are significantly more portable than anything that involves a screen (like Netflix or even my beloved French YouTube) but easier to understand than French music.
There are a variety of beginner and intermediate French podcasts available, most with a large backlog of episodes (so you'll never run out).
Podcasts are WAY more engaging than textbooks or lessons!
Almost all the podcasts on this list are free. They make the perfect complement to a paid class so you can stretch your budget while living French immersion.
My advice is to follow several of the podcasts on this list and see which ones you actually end up liking and listening to.
I also suggest trying several dialects right off the bat so you can get used to accents outside of only one region.
But no matter what you do, I hope you enjoy these as much as I have!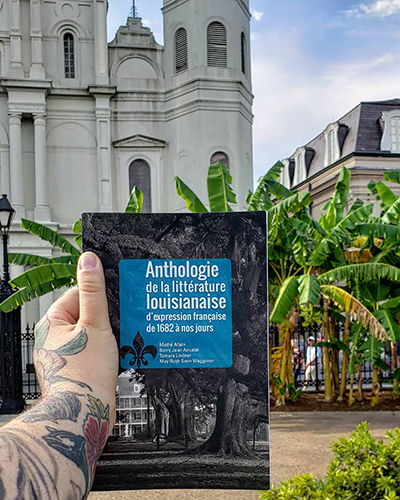 French Podcasts of Note:
🎖️

French Language Hero

(consistent weekly or biweekly episodes after 2+ years)
✨ 

New and Promising

(less than 12 episodes or 1 year old)
Audio Rating:
🎤 ⬜ ⬜ Low quality (mic issues, echo)
🎤🎤 ⬜ Fair quality (maybe some background noise or echo)
🎤🎤🎤 High quality, clear audio
Podcast Format:
Narrative

= One host (often from a script)

Cohosts

= Two people speaking together

Interviews

= One host with various guests
Finally, each French podcast has links to their shows on the big 3 platforms: Apple, Google, and Spotify.
Most of these podcasts also exist on other podcast hosting services, but since almost all podcast traffic runs on these three sites the links are provided here.
French Podcasts for Beginners Learning French (A1-B1)
If you're just starting off with the language (or as I like to call it: "pre-conversational") these French podcasts will help you boost your skills in a fun way.
1. The Duolingo French Podcast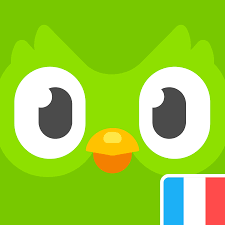 Country: International 🌎
Founded: June 2019
Schedule: Seasons
Audio: 🎤🎤🎤
Format: Interviews
Transcripts: Free on their site
The Duolingo French podcast is a gem. I'm personally not a huge fan of the app, but this podcast is produced bilingually in English and French with riveting stories told extremely slowly.
From bakers in Afghanistan to ocean explorers from France, each episode will have you dying to understand spoken French and improving your language.
News in Slow French is probably the easiest monolingual French podcast to listen to and should be largely digestible for new students.
However, only tiny segments are available for free. For weekly episodes, transcripts, and language learning exercises it's $20 a month on their own platform.
This classic French podcast is bilingual in English and French to help students improve their language through casual chats between the host and guests.
Each episode has mini grammar lessons, which is great, but they're largely in English–not French.
4. French Through Stories
These short bilingual episodes teach French through short stories. Each episode has either a mini-lesson (in English) followed by fun phrases (in French) or a short story (in French) followed by a translation and lesson (in English).
It's a new podcast with only a few episodes so far but seems really promising, so check it out and give it a review if you like it!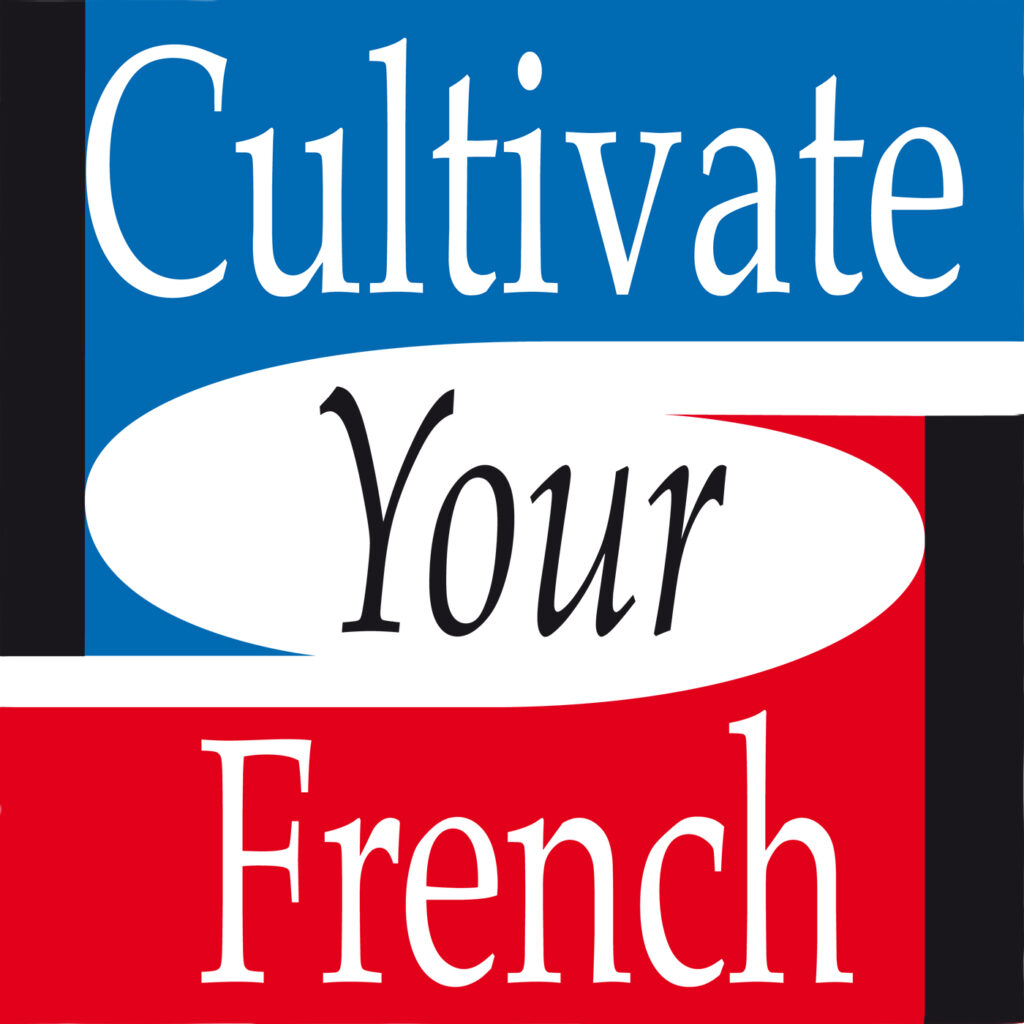 Country: France 🇫🇷
Founded: 2019 🎖️
Schedule: Weekly
Audio: 🎤 🎤 🎤
Format: Narrative/Short Stories
Transcripts:  On the blog
French teacher Laetitia Perraut stays booked and busy, uploading regular episodes of Cultivate Your French and One Thing A Day in French, her other podcast which has been running consistently since 2006.
The episodes of Cultivate Your French have 3 parts. First, Laetitia explains to you the context of a very short story in English. Then, in very slow French, she reads you the story. Finally, she reads it a bit faster.
This is a great podcast for those who are struggling with intermediate podcasts but who are trying to work up to them (and still very far from native level content.)
French Podcasts for Intermediate Language Students (B1-B2)
These French podcasts are for students who are becoming conversational or trying to move from conversational to fluent.
If you can kinda-but-it's-hard speak French, prepare to have your mind blown.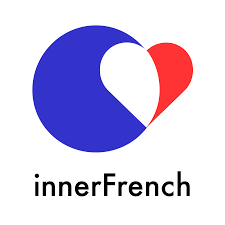 Country: France 🇫🇷
Founded: April 2017 🎖️
Schedule: Biweekly
Audio: 🎤🎤🎤
Format: Narrative
Transcripts:  Free on their website
InnerFrench is probably the most beloved French podcast specifically for students. Each episode explores an interesting story (whether it's French history, sports, literature, or contemporary culture) slowly and clearly.
Host Hugo Cotton takes his time speaking very clearly and slowly, and often explains great phrases to his audience in the middle of a sentence.
This podcast is what helped me move from beginner French to intermediate French, and I recommend it more highly than anything else on this list.
7. Podcast Français Authentique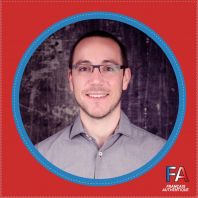 Country: France 🇫🇷
Founded: Feb 2012 🎖️
Schedule: Weekly
Audio:  🎤🎤 ⬜ 
Format: Narrative
Transcripts: Free on their website
Podcast Français Authentique has been around significantly longer than any other podcast on this list and is still updating weekly.
Explore their literally endless back catalogue of episodes as host Johan explores the French language and its cultures.
8. Fleur-de-lis: A French Podcast
Fleur-de-list is the only Canadian French podcast being made at the intermediate-level and needs to go on your to-listen list. Each tiny episode, between 5-7min, uses simple French to tell small stories about life in Canada so listeners can explore a new side of the French language.
The host has been on-again-off-again updating the podcast, but with 20 episodes in the archive I highly recommend giving them a listen!
9. Master Your French Podcast
This new intermediate French podcast is similar to other ones in this category, where the hostess discusses a wide range of basic topics in very very slow French.
Her show is brand new (and we all know how few podcasts make it past their first few months) so check it out and give her a rating if you enjoy it!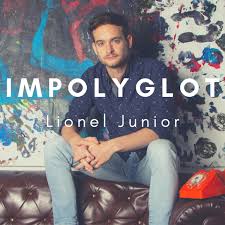 Country: France 🇫🇷
Founded: Sept 2018
Schedule: Seasons
Audio: 🎤 🎤 🎤
Format: Narrative
Transcriptions: Free on their blog
Impolyglot is a French podcast for language learners all about language learning. The host himself teaches his native French, in addition to speaking high levels of English and Spanish, and spends most episodes giving our tips or answering questions.
Unlike other French podcasts for learners, however, he doesn't slow down his speed to accommodate for low levels of language comprehension.
French Voices has an interesting format: each episode is actually uploaded in two episodes to represent it's two parts.
The first upload of each episode is in English. It gives a summary of the second part of each episode plus vocabulary or phrases you'll need.
The second upload is an interview with a native French speaker about some interesting part of French culture. They do not slow down or explain anything.
The idea is that you'll first listen to the English upload with the new information, then test your new French skills with the second episode.
It sounds more complicated than it is, but it's a totally original podcast format and I really enjoy it.
There are 2 types of episodes of French BlaBla. The long episodes (9-12min) give you interesting conversation lessons about a particular theme, or are short stories about the host's life (think: YouTube vlog).
The tiny episodes from summer 2020 (2-5min) were from a special project where the host read a fictional story, and are really fun episodes to start with.
While this isn't a traditional French podcast, I highly recommend adding it to your French learning flow (and doubly recommend it for French teachers looking for new resources to work on with students).
13. My Polyglot Life En Français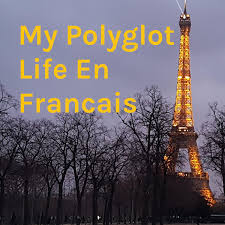 Country: France 🇫🇷
Founded: Feb 2020 ✨
Schedule: Biweekly(ish)
Audio: 🎤🎤 ⬜
Format:  Narrative
Transcripts:  Free on their blog
My Polyglot Life is by a French teacher and language learner who knows what you need to know about French in order to evade some of the most common pitfalls.
Episodes explore the details of daily life, from French school systems to work/life balance to the role of women in French society. This way you can not only practice your language skills, but also understand a little bit more of the nuance in francophone life.
French Podcasts for Native Speakers (B2-C2 Students)
This section of French podcasts features podcasts specifically made for natives in a wide variety of genres.
It's a list curated specifically so everyone can find a little something they love–no matter what genre of podcast they want to listen to. This way you can enjoy your higher-level French and (hopefully) forget you're listening to your second language at all.
Unfortunately, none of these podcasts have transcripts. So instead of noting that, we left some language notes to help you navigate your choices a bit better.
Summary: Hostess Laélia Véron invites a diverse array of guests onto the show to talk about the history, traditions, and contemporary issues of the French language.
Language notes: Language students who are tired of the huge set of rules imposed by the Standard Langauge will fall in love with this beautiful linguistics exploration.
Update Feb 2022: As of right now Binge Audio has retired production of Parler Comme Jamais, which kills me because it was my favorite podcast in any language. Make sure you listen back through the archives though, because it is a treasure chest of linguistic fun.
Summary: This business podcast is aimed to a new generations of professionals and entrepreneurs who see themselves as "interrupters" (or "dérangeants" in French).
In every episode, you'll find a panel of startup CEOs, economists, marketers, and tech geeks talking about the issues of the moment in Canada and internationally.
Language notes: Because it's a bunch of natives speaking to each other, you'll find they speak a bit faster than they would if they were alone speaking into a mic. So If you're not familiar with Canadian French, this podcast might be a challenge.
Summary: La Poudre invites on the women who are shaping contemporary history to explore their lives and works with journalist Lauren Bastide. Feminists and activists will love this French podcast.
Language notes: Language learners will enjoy the challenge some of the conversations will pose non-native speakers, but if you're uncomfortable with quickly-spoken and slang-filled French this one might be a bit tough.
Summary: This podcast absolutely destroys the stereotype that all French people are white and from Paris. Join hosts Rokhaya Diallo and Grace Ly (plus a third guest every episode) as they dive deep into questions of race, ethnicity, and nationality without shyness or apology.
Language notes: Listeners who are interested in a variety of French dialects and francophone nations will enjoy how linguistically diverse this show is and how their hosts discuss international issues with grace.
Summary: Belgian-Francophone podcast host and wellness coach Caroline Renwart talks about women's health, spirituality, identities, and wellbeing every week. Each episode offers not only interesting stories but plenty of ideas and tips for "finding the best version of yourself".
Language notes: Caroline speaks clearly and generally pretty slowly, so I invite French learners to explore Belgian French if they don't have much experience with the dialect. There aren't very many podcasts coming out of that region of the world, but this one is a gem.
Summary: This truly eclectic French podcast is full of fun features pieces under the umbrella category of "whatever the host finds interesting that day". But that said, it's structured well with plenty of pop culture, tech, news, social media, and learning.
Language notes: If you're not too familiar with Canadian French, this is a good place to start. The host speaks very clearly and the audio quality is fantastic.
20. Le Bureau des Mystères
Summary: Cohosts Mathias and Charles take turns reading stories of urban legends, the paranormal, and all-around creepypasta in this French podcast of strange stories.
Language notes: For French learners, the addictive stories are read clearly and with quality audio, but often involve a ton of specific vocab you might not have in your conversational arsenal, so it'll be a fun challenge.
Summary: This French business podcast has one major goal: help your business grow. With a different guest on virtually every episode, they invite business owners, marketers, and investors to share their tips with listeners.
Language notes: In the Bilingual Canadian spirit, this French podcast sometimes invites on Anglophone guests to chat with viewers which makes every episode a bit of a surprise. Just be warned: the hosts have a well-mic'ed and well-soundproofed studio, but guests who are recording on headphone mics so some guest segments might be hard for non-native French speakers to understand.
Summary: French podcast host and life coach Clotide Dusoulier talks about psychology, decision-making, goal-setting, and self-care in practical ways with one goal in mind: to help you change your life.
Language notes: If you struggle with how fast the French speak, this one will be a good exercise. Clotide speaks incredibly clearly and with great audio quality, but exceedingly fast.
Beyond French Podcasts: Creating At-Home Language Immersion
Finally, if you're really serious about learning French through immersion, here are a few more resources I have prepared for you (all from things I actually use myself!)
Do you have any other French podcasts you think belong on this list? Or any other French media lists you want to see me make?
Let me know in the comments! I'll be coming by to edit this list as I myself explore more French podcasts, so I'd love your recommendations.